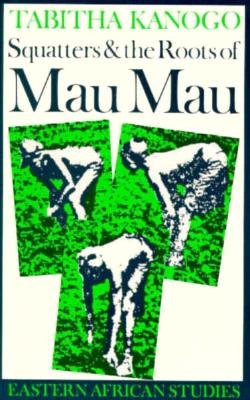 Squatters and the Roots of Mau Mau, 1905–1963 (Eastern African Studies) (Paperback)
Ohio University Press, 9780821408742, 206pp.
Publication Date: September 30, 1987
* Individual store prices may vary.
Description
This is a study of the genesis, evolution, adaptation and subordination of the Kikuyu squatter labourers, who comprised the majority of resident labourers on settler plantations and estates in the Rift Valley Province of the White Highlands. The story of the squatter presence in the White Highlands is essentially the story of the conflicts and contradictions that existed between two agrarian systems, the settler plantation economy and the squatter peasant option. Initially, the latter developed into a viable but much resented sub-system which operated within and, to some extent, in competition with settler agriculture. This study is largely concerned with the dynamics of the squatter presence in the White Highlands and with the initiative, self-assertion and resilience with which they faced their subordinate position as labourers. In their response to the machinations of the colonial system, the squatters were neither passive nor malleable but, on the contrary, actively resisted coercion and subordination as they struggled to carve out a living for themselves and their families….
It is a firm conviction of this study that Kikuyu squatters played a crucial role in the initial build-up of the events that led to the outbreak of the Mau Mau war.
—from the introduction
About the Author
Tabitha Kanogo is associate professor of history at the University of California Berkeley. She is the author of African Womanhood in Colonial Kenya, 1900–1950 and Squatters and the Roots of Mau Mau both available from Ohio University Press.
Praise For Squatters and the Roots of Mau Mau, 1905–1963 (Eastern African Studies)…
"Dr Kanogo has followed the fortunes of these squatters. It is an amazing story. At first, when white settlement was in its infancy, the squatters lived in a 'heaven.' They prospered greatly by utilizing the vast and virgin lands which the Europeans could not at first put under production.

"This 'heaven' lasted only until around 1923. Then the white settlers began to assert themselves, by demanding more labour hours from the squatters. By using the colonial state, they initiated laws to restrict squatter cultivation and animal husbandry and, by the early 1940s, the vast quantity of the squatter livestock had been got rid of. The squatters became poorer and poorer, disillusioned and angry.

"Dr. Kanogo proceeds to narrate the story of squatter involvement in the Mau Mau movement—in particular female participation—the first time a Kenyan historian has actually done field work on Mau Mau instead of simply mouthing propaganda."—William R. Ochieng, Professor and chairman of the history department, Kenyatta University
"A first-rate piece of research and analysis [and] also very exciting. It is a social history of the Kikuyu squatters on the White Highlands, who became possibly the most important group in the composition of Mau Mau and, thereafter, a most significant pressure group in the politics of decolonization, since it was their spontaneous action in occupying a number of settler farms which ensured the political necessity of the settlement schemes. It has intimate and detailed data on the everyday life of the squatters before the 1940s. It has some marvellous pictures of their ingenuity, establishing what was essentially a Kikuyu colony, where there should only have been obedient farmworkers."—John Lonsdale, Fellow of Trinity College, Cambridge
"This is a provocative piece of work, which should interest several audiences. First, students of Kenyan history. Secondly, economic historians, especially those interested in labor history. Finally, from a comparative point of view, those interested in the socio-economic bases of revolution."—Bethwell A. Ogot, Professor of history, Kenyatta University