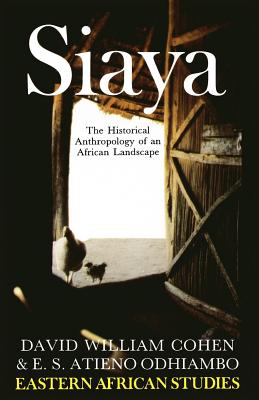 Siaya (Paperback)
The Historical Anthropology of an African Landscape (Eastern African Studies)
Ohio University Press, 9780821409022, 160pp.
Publication Date: May 15, 1989
* Individual store prices may vary.
Description
The authors of this highly original book set out to remove the persistent boundary between the authors and readers of ethnography on one hand and the subjects of ethnography on the other – those who observe and those who are observed.
The authors use stories to reveal Siaya, the Luo-speaking area of Western Kenya down near the Lake but still surprisingly vulnerable to drought. There are the stories of survival by a woman with her carpenter husband in Nairobi, there is the launching of a boat as bride into the Lake and there is the great Boro Christmas disco riot. The book finishes with an Afterword on the burial of the lawyer S. M. Otiono that divided its whole of Kenya.
It is both written about and for the Luo. It brings together Luo ideas and debates about their own past and present with findings, arguments and questions produced about this "other people;" by outside scholars writing in their own disciplines. Among the Luo, what constitutes culture, what is correct behavior, what is history, are questions that are heavily fought over.
This is one of those rare books that makes students and other interested individuals question their own cultural preconceptions and what are the genuine concerns of academic disciplines.
About the Author
David William Cohen is a professor of anthropology and history at the University of Michigan. He is the author of The Historical Tradition of Busoga: Mukama and Kintu, The Combing of History, and Womunafu's Bunafu.
E. S. Atieno Odhiambo was a professor of history at Rice University. He is the author of The Paradox of Collaboration and Other Essays, and Siaya: Politics and Nationalism in East Africa, 1905-1939. He is the editor of African Historians and African Voices and coeditor, with David William Cohen, of The Risks of Knowledge.
Praise For Siaya: The Historical Anthropology of an African Landscape (Eastern African Studies)…
"This is a highly innovative book…If Siaya is to be judged by the richness and complexity of its portrayal of Luo culture (as its authors intended), then it is undoubtedly a hugely enjoyable success. Everyone who reads the book will gain a great deal from the experience."—David M. Anderson, Africa
"This is an excellent work…clearly one of the most provocative, stimulating, perceptive, sensitive, and attractive works in East African social research to appear in recent decades. No East Africanist can afford to neglect it.…The chapter on women is brilliant…The penultimate chapter on how modern values percolate down to the African grassroots is as provocative and brilliant as the preceding one on women. Throughout the book the authors beautifully interlace historical and ethnographic data with pertinent extracts from contemporary Luo novels, poems, popular songs, newspaper articles, memoirs, and their own personal reminiscences."—T.O. Beidelman, Anthropos
"This is a book which every historian and anthropologist working on Africa should read. It is engagingly and creatively written. It says a very large number of important things."—Henrietta L. Moore, The Journal of Peasant Studies