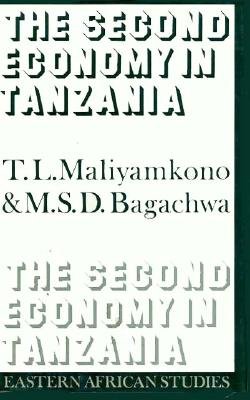 Second Economy In Tanzania
Eastern African Studies
Hardcover

* Individual store prices may vary.
Description
Every country has its second, underground, unofficial, irregular or parallel economy. By their nature they are hidden and defy accurate and formal measurement. They provoke conceptual and definitional arguments among analysts. There has recently been a surge of interest; anecdote, newspaper reports and 'educated guesses' have increasingly been replaced by serious analysis. However, most of the new generation of studies are of developed economies.
This book examines the effect on a developing economy. It explores the causes, identifies the key sectoral manifestations and reveals the various groups of actors. It attempts to establish the size of the second economy of Tanzania.
Various factors drove the official economy into distress. Tanzanian peasants, wage earners and firms resorted to legitimate and illegitimate activities to overcome state control and shortage of basic necessities.
This pioneering study will be invaluable for policy makers, international funding bodies and for students who are faced with trying to understand the realities of life behind the formal facade of economic theory and official statistics.
Praise For Second Economy In Tanzania: Eastern African Studies…
"This is an important book in the documenting of recent Tanzanian history, as well as an excellent reference book for those having to write reports on Tanzania and looking for facts to back up their own ideas."—Murdoch Gatward, Development Policy Review

"The topics are presented in a clear and systematic way so as to guide the reader through the courses and effects of the Tanzanian 'second' economy. Maliyamkono and Bagachwa have successfully addressed an issue that plagues many developing countries today including Tanzania."—Abdul M. Turay, Journal of Developing Societies

"A wide variety of consequences is explored in these books, ranging from impoverished workers and peasants to the rise of the second economy. Maliyamkono and Bagachwa probe the latter to provide some of the most significant data on Tanzania publishe

"This is a lucidly written and highly readable book. It should be on every policy maker's bookshelf, particularly in government offices."—Southern African Economist

"Maliyamkono and Bagachwa have written the best detailed account so far of the development of the second economy in a less developed country."—A. Barrett, College of St. Scholastica
Ohio University Press, 9780821409497, 216pp.
Publication Date: June 15, 1990
About the Author
T.L. Maliyamkono is one of the authors of The Challenge for Tanzania's Economy (1986) and is Professor of the Economics of Education and Director of the Eastern and Southern African Universities Research Project (ESAURP) in the University of Dar es Salaam.
M.S.D. Bagachwa is a Senior Research Fellow at the Economic Research Bureau in the University of Dar es Salaam. He was previously on the National Price Commission in Tanzania and was a Research Officer at Queen Elizabeth House in the University of Oxford.
or
Not Currently Available for Direct Purchase