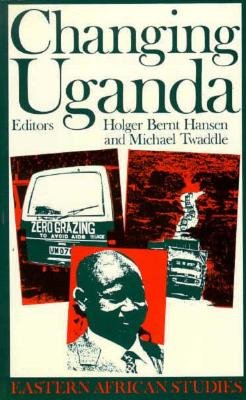 Changing Uganda (Paperback)
Dilemmas of Structural Adjustment (Eastern African Studies)
Ohio University Press, 9780821410059, 416pp.
Publication Date: January 15, 1992
Other Editions of This Title:
Hardcover (1/15/1992)
* Individual store prices may vary.
Description
Yoweri Museveni battled to power in 1986. His government has impressed many observers as Uganda's most innovative since it gained independence from Britain in 1962. The Economist recommended it as a model for other African states struggling to develop their resources in the best interests of their peoples.

But where was change to start? At the bottom in building resistance committees, or at the top in tough negotiations with the IMF? How was it to continue? Was it in the restructuring of the national army, in increasing respect for human rights, in the reform of education, in tackling AIDS, or in getting Ugandans to speak a common language? Was it in building more viable survival strategies for the poorest Ugandans or in restructuring the national constitution? The last five years have shown a radical approach to Uganda's dilemmas.

Holger Bernt Hansen and Michael Twaddle previously edited Uganda Now. It was brought together at a significant moment just as President Museveni was gaining power in 1985-6. It was so much in demand that it even entered the magendo market on the streets of Kampala. The book, which is still in print, was described by The Canadian Journal of African Studies as 'virtually a mini-encyclopedia of Uganda' and by The African Studies Review as 'the best overview of Uganda's trauma in the last two decades.'

The editors have assembled another team of Ugandan and international scholars to review the dilemmas of introducing revolutionary changes in an African country deeply affected by structural adjustment plans which have been imposed from outside.
About the Author
Hölger Bernt Hansen is director of the African Studies Center at the University of Copenhagen.
Michael Twaddle teaches politics and history at the Institute of Commonwealth Studies, University of London. Hansen and Twaddle are the editors of two renowned books, Uganda Now (1988) and Changing Uganda (1991).
Praise For Changing Uganda: Dilemmas of Structural Adjustment (Eastern African Studies)…
"By bringing together such a large collection, the editors have offered an international voice to a significant number of contemporary analysts of change in Uganda, with a fairly even balance between nationals and non–nationals. … Overall, the availability of an additional source on Uganda is to be welcomed."—Diana Hunt, University of Sussex, International Affairs
"The book, Changing Uganda is one component of the diversity in Ugandan society. In a profound sense, the book exposes how little has changed since the days of Lloyd Fallers, David Apter, and James Coleman. In this sense, the book is part of the present silencing narrative with respect to the majority of Ugandan producers."—Horace Campbell, Syracuse University, The International Journal of African Historical Studies