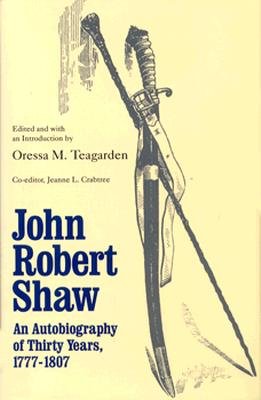 John Robert Shaw
An Autobiography of Thirty Years, 1777–1807
Hardcover

* Individual store prices may vary.
Description
In the summer of 1807 more than a thousand subscribers from New England to Tennessee paid for the initial printing of The Life and Travels of John Robert Shaw: A Narrative of the Life and Travels of the Well-Digger, now resident of Lexington, Kentucky, Written by Himself. Shaw had come to Rhode Island as a British redcoat to put down the colonial rebellion. Through various quirks of fate, including being taken a prisoner of war, he ended up fighting with the Americans. Shaw was an exuberant spirit whose rowdy drinking bouts and related predicaments alternated with periods of wholehearted efforts at reform. His autobiography, written while he recuperated from injuries from one of several explosions (an occupational hazard for the frontier well-digger), is an articulate and entertaining record of the Revolutionary War era.
A 1930 printing of Shaw's autobiography was rescued from the trash by an alert librarian in Kentucky in 1950. She passed the tattered copy on to journalist Oressa M. Teagarden, who became intrigued with Shaw's story and spent much of her free time over the next two decades finding out more about the ebullient American. On Teagarden's death, co-editor Jeanne Crabtree assumed the task of making Shaw's authentic and colorful view of early America available to a new generation of readers.
Ohio University Press, 9780821410189, 187pp.
Publication Date: January 1, 1992
About the Author
Oressa Teagarden was a writer and reporter for the Louisville Times and an amateur historian of the Revolutionary and Civil War periods.
Jeanne Crabtree is a writer and a former editorial adviser to the law reviews published at the University of Oklahoma College of Law.
or
Not Currently Available for Direct Purchase