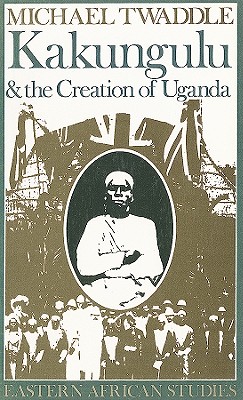 Kakungulu and the Creation of Uganda, 1868–1928
1868-1928 (Eastern African Studies)
Paperback

* Individual store prices may vary.
Other Editions of This Title:
Hardcover (12/15/1993)
Description
This is a history of the early days of Uganda. The account has an African focus because it shows the British takeover through the experiences of an extraordinary leader.
"At this spot in the year 1901 the British flag was first hoisted by Semei Kakanguru, emissary and loyal servant of His Majesty the King. He built here a boma which was for a short time the headquarters of the district. From this beginning came the establishment of peace and the development of orderly progress in this part of Uganda."
Michael Twaddle was shown this plaque in 1963 by a local government official who said "That man created the Uganda we Ugandans are fighting for today." And yet the local people had had the plaque removed to a bicycle shed.
How do people regard an African who had an active role in the creation of the imperial state? Was this man "a hero," "a collaborator," "a warlord"? The reaction of colonial officials was mixed. One considered him "…in point of general intelligence, progressive ideas and charm of manner…far above all other natives in the Protectorate…" Another dismissed him, along with his companions, as "no better than Masai or Nandi cattle lifters." And yet another viewed him as "undoubtedly…a partial religious maniac."
The story of this man is an example of the dilemma for a whole generation of East Africans at the turn of the last century. This book has been compared in its importance to Shepperson's and Price's Independent African.
Praise For Kakungulu and the Creation of Uganda, 1868–1928: 1868-1928 (Eastern African Studies)…
"Kakangulu's story…has been strikingly told before. But on nothing like this scale. Dr. Twaddle's book has been thirty years in the making, and is as ample an account as is likely to be produced. Indeed as a biography of a nineteenth century African it is all but without peer."—Anthony Low, Clare Hall, Cambridge, African Affairs

"Twaddle has chosen a very difficult genre…But he handles it with great skill, and has put the historiography of late nineteenth and early twentieth-century Uganda on to a quite new footing, commenting incisively and acutely on the nature of G

"Michael Twaddle's unraveling of what was a thoroughly complicated story is a considerable feat of research, particularly as he has written it in such a way that the reader is not drowned in the complications."—Robert Ross, Kun
Ohio University Press, 9780821410592, 320pp.
Publication Date: December 15, 1993
About the Author
Michael Twaddle teaches politics and history at the Institute of Commonwealth Studies, University of London. Hansen and Twaddle are the editors of two renowned books, Uganda Now (1988) and Changing Uganda (1991).