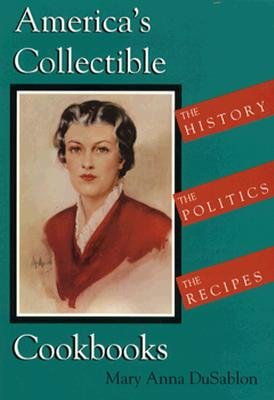 America's Collectible Cookbooks
The History, The Politics, The Recipes
Paperback

* Individual store prices may vary.
Description
America's Collectible Cookbooks is a wonderful concoction of gossipy morsels and serious reflection about cookbooks and cookbook authors. Although the names Fannie Merritt Farmer, Eliza Leslie, Sarah Josepha Hale, and Irma Rombauer are familiar to generations of American books, few know how really extraordinary these women were. In Mary Anna DuSablon's look at the two hundred-year evolution of American cookbooks, these authors receive their due—not simply as recipe peddlers, but as shapers of American culture. The book describes how government and industry joined forces to woo women back into the kitchen after the world wars. And it hails the role of the cookbook as a fund-rasier during the many years of social reform.
Some other tantalizing topics include:
• What did New York's "Inelligence Offices" have to do with cookbooks?
• Where can one find John Steinbeck's recipe for "Tortilla Flats," or Joan Crawford's "Surprise"?
• Graham crackers are a descendant of which important New England cookbook author?
• Which famous chef (who was not a chef) wrote a cookbook but could not cook?
• What cookbooks still found in many American homes are collectible treasures?
• Who were the women (and men) behind Betty Crocker, the most successful, but nonexistent, cookbook autor in America?
The reach is invited to savor twelve-course dinners, Pork Chops with Truffle Sauce, "Pompkin" Pie, and the wholesome gourmet delicacies of Molly Katzen (The Moosewood Cookbook) and Marian Morash (The Victory Garden Cookbook). In America's Collectible Cookbooks, we find that DuSablon convincingly reclaims American cuisine as the invention of, who else? American women.
Praise For America's Collectible Cookbooks: The History, The Politics, The Recipes…
"America's Collectible Cookbooks…is a remarkable olio of gossipy tidbits, history, and an up-front look at the cooks who so greatly influenced our lives. Reading the recipes from early-day cookbooks makes one marvel at the women who became such expert cooks using such limited instructions…A fascinating read."—Las Vegas Sun

"Scrupulously researched but eminently readable."—Linda Rosenkrantz, Contemporary Collectibles

"This book provides a valuable reference for tracking historical food preparation and home care information and learning about cultural contributors to our food heritage and kitchen management. It encourages local cookbook projects and collectors, libraries, and historical museums to preserve local treasures and collectibles…Encourages the enjoyment and study of food habits, customs, social and economic history, and scientific and technological progress."—Ann A. Hertzler, PhD, RD, Journal of the American Dietetic Association

"This is an important contribution to our understanding of a key element of American popular culture that both academic and public libraries, whatever their policy on collecting actual cookbooks may be, should acquire for the light it sheds on several aspects of our cultural and social history."—Norman D. Stevens, Popular Culture in Libraries

"America's Collectible Cookbooks should be required reading for all cookbook collectors and for every woman or man who's ever imagined the story behind that butter-smeared copy of 'Joy of Cooking.' Cooks will enjoy the dozens of period menus and recipes included in each section (side effect of this book: It makes you hungry)."—Ann McCuthan, Syndicated Columnist, "Collectibles"
Ohio University Press, 9780821410776, 229pp.
Publication Date: May 1, 1994
About the Author
Mary Anna DuSablon is the author of America's Collectible Cookbooks: The History, the Politics, the Recipes (Ohio, 1994) and Cincinnati Recipe Treasury: The Queen City's Culinary Heritage (Ohio, 1989).
or
Not Currently Available for Direct Purchase