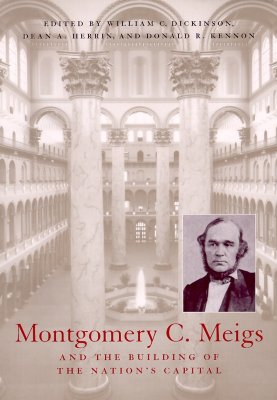 Montgomery C. Meigs and the Building of the Nation's Capital (Perspective On Art & Architect) (Paperback)
Ohio University Press, 9780821413975, 232pp.
Publication Date: February 1, 2002
Other Editions of This Title:
Hardcover (2/15/2002)
* Individual store prices may vary.
Description
At the age of thirty-six, in 1852, Lt. Montgomery Cunningham Meigs of the Army Corps of Engineers reported to Washington, D.C., for duty as a special assistant to the chief army engineer, Gen. Joseph G. Totten. It was a fateful assignment, both for the nation's capital and for the bright, ambitious, and politically connected West Point graduate.

Meigs's forty-year tenure in the nation's capital was by any account spectacularly successful. He surveyed, designed, and built the Washington water supply system, oversaw the extension of the U.S. Capitol and the erection of its massive iron dome, and designed and supervised construction of the Pension Building, now the home of the National Building Museum. The skills he exhibited in supervising engineering projects were carefully noted by political leaders, including president-elect Abraham Lincoln, who named Meigs quartermaster general of the Union Army, the most important position he held during his long and active military career.

Meigs believed Washington, D.C., should be the reincarnation of Rome, the ancient capital of the Roman Empire. He endeavored to memorialize the story of the American nation in all the structures he built, expressing these ideas in murals, sculpture, and monumental design.

Historians have long known Meigs for the organizational genius with which he fulfilled his duty as quartermaster general during the Civil War and for his unwavering loyalty to Lincoln and Secretary of War Edwin Stanton. This volume establishes his claim as one of the major nineteenth-century contributors to the built environment of the nation's capital.
About the Author
William C. Dickinson is a consultant who has studied the military career of Meigs from a management perspective.
Donald R. Kennon is the former chief historian and vice president of the United States Capitol Historical Society. He is editor of the Ohio University Press series Perspectives on the History of Congress, 1789–1801.
Dean A. Herrin is a National Park Service Coordinator.
or
Not Currently Available for Direct Purchase