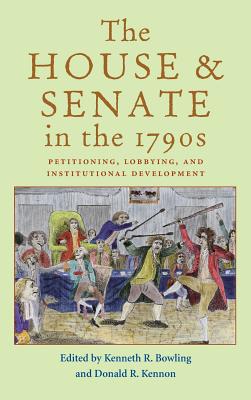 The House and Senate in the 1790s
Petitioning, Lobbying, and Institutional Development (Perspective History Of Congres)
Hardcover

* Individual store prices may vary.
Description
Amid the turbulent swirl of foreign intrigue, external and internal threats to the young nation's existence, and the domestic partisan wrangling of the 1790s, the United States Congress solidified its role as the national legislature. The ten essays in The House and Senate in the 1790s demonstrate the mechanisms by which this bicameral legislature developed its institutional identity. The first essay sets the scene for the institutional development of Congress by examining its constitutional origins and the efforts of the Founders to empower the new national legislature. The five following essays focus on two related mechanisms—petitioning and lobbying—by which citizens and private interests communicated with national lawmakers.

Although scholars tend to see lobbying as a later nineteenth-century development, the papers presented here clearly demonstrate the existence of lobbyists and lobbying in the 1790s. The final four papers examine other aspects of the institutional development of the House and the Senate, including the evolution of political parties and congressional leadership.

The essays in this collection, the third volume in the series Perspectives on the History of Congress, 1789-1801, originated in a series of conferences held by the United States Capitol Historical Society from 1994 to 2001.
Praise For The House and Senate in the 1790s: Petitioning, Lobbying, and Institutional Development (Perspective History Of Congres)…
"In framing a government which is to be administered by men over men, the great difficulty lies in this: You must first enable the government to control the governed; and in the next place, oblige it to control itself."—James Madison, Federalist No. 51
Ohio University Press, 9780821414194, 328pp.
Publication Date: April 15, 2002
About the Author
Kenneth R. Bowling is coeditor of The Documentary History of the First Federal Congress, 1789–1791, and the author of The Creation of Washington, D.C.: The Idea and Location of the American Capital.
Donald R. Kennon is the former chief historian and vice president of the United States Capitol Historical Society. He is editor of the Ohio University Press series Perspectives on the History of Congress, 1789–1801.