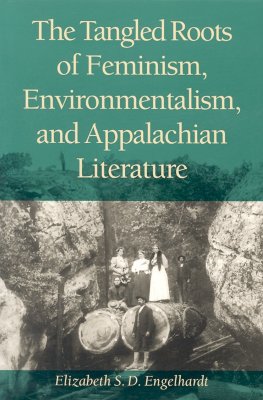 The Tangled Roots of Feminism, Environmentalism, and Appalachian Literature (Race, Ethnicity and Gender in Appalachia)
Paperback

* Individual store prices may vary.
Other Editions of This Title:
Hardcover (12/29/2003)
Description
Contemporaries were shocked when author Mary Noailles Murfree revealed she was a woman, but modern readers may be more surprised by her cogent discussion of community responses to unwanted development. Effie Waller Smith, an African American woman writing of her love for the Appalachian mountains, wove discussions of women's rights, racial tension, and cultural difference into her Appalachian poetry. Grace MacGowan Cooke participated in avant-garde writers' colonies with the era's literary lights and applied their progressive ideals to her fiction about the Appalachia of her youth. Emma Bell Miles, witness to poverty, industrialization, and violence against women, wrote poignant and insightful critiques of her Appalachian home.

In The Tangled Roots of Feminism, Environmentalism, and Appalachian Literature Elizabeth Engelhardt finds in all four women's writings the origins of what we recognize today as ecological feminism—a wide-reaching philosophy that values the connections between humans and nonhumans and works for social and environmental justice.

People and the land in Appalachia were also the subject of women authors with radically different approaches to mountains and their residents. Authors with progressive ideas about women's rights did not always respect the Appalachian places they were writing about or apply their ideas to all of the women in those places—but they did create hundreds of short stories, novels, letters, diaries, photographs, sketches, and poems about the mountains.

While The Tangled Roots of Feminism, Environmentalism, and Appalachian Literature ascribes much that is noble to the beginnings of the ecological feminism movement as it developed in Appalachia, it is also unyielding in its assessment of the literatures of the voyeur, tourist, and social crusader who supported status quo systems of oppression in Appalachia.
Praise For The Tangled Roots of Feminism, Environmentalism, and Appalachian Literature (Race, Ethnicity and Gender in Appalachia)…
"In examining the 'tangled roots' of ecological feminism, the author brings together a wealth of primary materials—archival documents such as journals, photographs, letters, and diaries and marginalized published work.… [T]he archival work is superb, and the modeling of feminist methodology is admirable.… Summing up: Highly recommended."—Choice

"Only a superficial observer could fail to understand that the mountain people really love the wilderness—love it for its beauty, for its freedom."—Emma Bell Miles, The Spirit of the Mountains

"Engelhardt's book is readable, engaging, provocative...a notable contribution to the cultural history of Appalachia."—Journal of Appalachian Studies
Ohio University Press, 9780821415108, 224pp.
Publication Date: December 29, 2003
About the Author
Elizabeth S. D. Engelhardt is John Shelton Reed Distinguished Professor of Southern Studies in the department of American studies at the University of North Carolina, Chapel Hill. Her family roots in western North Carolina extend back to the 1700s. Among her publications are A Mess of Greens: Southern Gender and Southern Food, The Tangled Roots of Feminism, Environmentalism, and Appalachian Literature, and The Larder: Food Studies Methods from the American South (edited with John T. Edge and Ted Ownby).