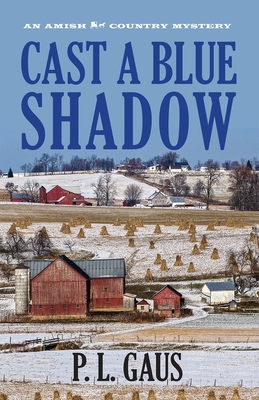 Cast a Blue Shadow (Hardcover)
Ohio University Press, 9780821415290, 225pp.
Publication Date: November 15, 2003
* Individual store prices may vary.
or
Not Currently Available for Direct Purchase
Description
What is the relationship between history and fiction in a place with a contentious past? And of what concern is gender in the telling of stories about that past?
After the first blizzard of an early winter, a Mennonite college girl with a troubled past appears curled up and bloodied outside the offce of her childhood psychiatrist. Mute for many years as a child, Martha Lehman is again not talking.
That same morning, the wealthy mother of Martha's boyfriend is found murdered in her mansion in the country west of Millersburg, Ohio. Professor Michael Branden and Sheriff Bruce Robertson begin an investigation that, in the space of a single weekend, implicates Martha, threatens to tear apart the fabric of Millersburg College, pits one professor against another, and brings Caroline Branden near to a breaking point over the girl she once tried so fervently to help and who now seems determined to let no one help her at all.
As Martha struggles to understand her enigmatic past and as Professor Branden wrestles with the murder of the college 6's leading benefactor, the real story of Martha Lehman emerges--born Amish, converted to Mennonite, and drawn to the English world for the worst of reasons.
In Cast a Blue Shadow, his fourth Ohio Amish Mystery, P. L. Gaus continues to explore the thresholds of culture and faith among the Amish sects and their English neighbors of northern Ohio. Through interwoven plots, Gaus portrays these ways of life at odds with one another despite their seeming harmony. Coupling those clashes with the petty and desperate scufflings of academic politics, Gaus spins a suspenseful tale of power, pride, and tested faith.
With Cast a Blue Shadow, Professors Branden and Gaus have done it again.
About the Author
P. L. Gaus is a chemistry professor at The College of Wooster in Wooster, Ohio. He also teaches a course in alternative cultures. He is the co-author of Basic Inorganic Chemistry, a best-selling college textbook.Gaus is the author of an Ohio University Press series of mysteries set among the Old Order Amish sects in Holmes County, Ohio. His first novel, Blood of the Prodigal: An Ohio Amish Mystery, published in 1999, received favorable reviews in Publishers Weekly, Booklist, ForeWord Magazine, and Kirkus Reviews. It was also a selection of The Mystery Guild Book Club.His second book, Broken English: An Ohio Amish Mystery, published in 2000, and his third, Clouds Without Rain: An Ohio Amish Mystery, published in 2001, received similar rave treatment in the news media.The New York Times Book Review said of Clouds Without Rain: Gaus is a sensitive storyteller who matches his cadences to the measured pace of Amish life, catching the tensions among the village s religious factions. In 1971, Gaus received a bachelor s degree in chemistry from Miami University in Oxford, Ohio. He has a doctorate in inorganic chemistry from Duke University in Durham, North Carolina. He has published 22 articles in professional chemistry journals. He also is a certified firearms instructor.P.L. Gaus was born March 26, 1949, in Athens, Ohio. He has lived in Ohio for most of his life. Today he lives in Wooster with his wife, Madonna."
Praise For Cast a Blue Shadow…
Gaus is a sensitive storyteller who matches his cadences to the measured pace of Amish life, catching the tensions among the village's religious factions."New York Times

"Gaus's eye for detail gives depth and power to a simple tale about complicated people."Kirkus Reviews

"The author portrays the conflicts among the various Amish sects whose varying degrees of strictness in some instances cause them to shun each other. Eschewing any academic pedantry, Gaus manages to expertly enlighten as well as entertain."Publishers Weekly
Advertisement