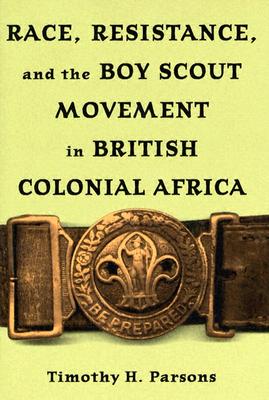 Race Resistance and the Boy Scout Movement In British Colonial Africa (Hardcover)
Ohio University Press, 9780821415955, 424pp.
Publication Date: November 29, 2004
Other Editions of This Title:
Paperback (11/29/2004)
* Individual store prices may vary.
Description
Conceived by General Sir Robert Baden-Powell as a way to reduce class tensions in Edwardian Britain, scouting evolved into an international youth movement. It offered a vision of romantic outdoor life as a cure for disruption caused by industrialization and urbanization. Scouting's global spread was due to its success in attaching itself to institutions of authority. As a result, scouting has become embroiled in controversies in the civil rights struggle in the American South, in nationalist resistance movements in India, and in the contemporary American debate over gay rights.

In Race, Resistance, and the Boy Scout Movement in British Colonial Africa, Timothy Parsons uses scouting as an analytical tool to explore the tensions in colonial society. Introduced by British officials to strengthen their rule, the movement targeted the students, juvenile delinquents, and urban migrants who threatened the social stability of the regime. Yet Africans themselves used scouting to claim the rights of full imperial citizenship. They invoked the Fourth Scout Law, which declared that a scout was a brother to every other scout, to challenge racial discrimination.

Parsons shows that African scouting was both an instrument of colonial authority and a subversive challenge to the legitimacy of the British Empire. His study of African scouting demonstrates the implications and far-reaching consequences of colonial authority in all its guises.
About the Author
Timothy Parsons holds a joint appointment as an associate professor in the history department and the African and Afro-American Studies Program at Washington University in St. Louis. He is the author of "The African Rank-and-File: Social Implications of Colonial Military Service in the King's African Rifles, 1902-1964; The 1964 Army Mutinies and the Making of Modern East Africa," and "The British Imperial Century, 1815-1914: A World History Perspective."
Praise For Race Resistance and the Boy Scout Movement In British Colonial Africa…
 "Scouting, according to Parsons, could promote either empire loyalism or anti-colonial resistance, ambiguities that surface in his case studies.... A solid piece of history."
—International History Review
"In effect, this study of the boy scout movement in Africa serves as an avenue of entry to a much broader consideration of the African experience under British colonial rule. The scholarship is not merely sound; it is downright formidable. This is a highly original, first-rate work of social history."
Dane Kennedy — author of Britain and Empire, 1880-1945
or
Not Currently Available for Direct Purchase