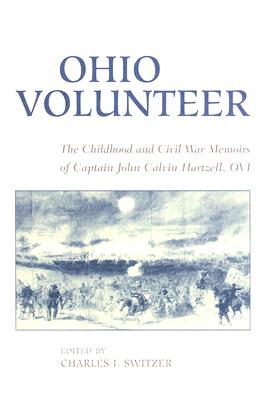 Ohio Volunteer (Hardcover)
The Childhood and Civil War Memoirs of Captain John Calvin Hartzell, OVI
Ohio University Press, 9780821416068, 250pp.
Publication Date: March 1, 2005
* Individual store prices may vary.
Description
When his captain was killed during the Battle of Perryville, John Calvin Hartzell was made commander of Company H, 105th Ohio Volunteer Infantry. He led his men during the Battle of Chickamauga, the siege of Chattanooga, and the Battle of Missionary Ridge. Edited and introduced by Charles Switzer, Ohio Volunteer: The Childhood and Civil War Memoirs of Captain John Calvin Hartzell, OVI documents military strategy, the life of the common soldier, the intense excitement and terror of battle, and the wretchedness of the wounded. Hartzell's family implored him to set down his life story, including his experiences in the Civil War from 1862 to 1866. Hartzell did so diligently, taking more than two years to complete his manuscript. The memoir reveals a remarkable memory for vivid details, the ability to see larger and more philosophical perspectives, and a humorous outlook that helped him bear the unbearable. He also depicted the changing rural economy, the assimilation of the Pennsylvania Dutch, and the transformations wrought by coal mining and the iron industry. Hartzell felt individualism was threatened by the Industrial Revolution and the cruelties of the war. He found his faith in humanity affirmed--and the dramatic tension in his memoir resolved--when 136,000 Union soldiers reenlisted and assured victory for the North. The common soldier, he wrote, was "loyal to the core.