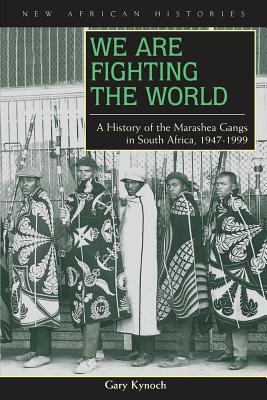 We Are Fighting the World
A History of the Marashea Gangs in South Africa, 1947–1999 (New African Histories)
Paperback

* Individual store prices may vary.
Other Editions of This Title:
Hardcover (1/1/2005)
Description
Since the late 1940s, a violent African criminal society known as the Marashea has operated in and around South Africa's gold mining areas. With thousands of members involved in drug smuggling, extortion, and kidnapping, the Marashea was more influential in the day-to-day lives of many black South Africans under apartheid than were agents of the state. These gangs remain active in South Africa.

In We Are Fighting the World: A History of the Marashea Gangs in South Africa, 1947–1999, Gary Kynoch points to the combination of coercive force and administrative weakness that characterized the apartheid state. As long as crime and violence were contained within black townships and did not threaten adjacent white areas, township residents were largely left to fend for themselves. The Marashea's ability to prosper during the apartheid era and its involvement in political conflict led directly to the violent crime epidemic that today plagues South Africa.

Highly readable and solidly researched, We Are Fighting the World is critical to an understanding of South African society, past and present. This pioneering study challenges previous social history research on resistance, ethnicity, urban spaces, and gender in South Africa. Kynoch's interviews with many current and former gang members give We Are Fighting the World an energy and a realism that are unparalleled in any other published work on gang violence in southern Africa.
Praise For We Are Fighting the World: A History of the Marashea Gangs in South Africa, 1947–1999 (New African Histories)…
"An extremely important contribution to South African scholarship but also offers a wealth of findings for comparative scholarship in the fields of colonialism, state formation, police science, criminology, resistance, migration, and gender studies."—Tom Lodge, author of Politics in South Africa: From Mandela to Mbeki

"Gary Kynoch's engaging book examines how gangs of Basotho migrants used violence and crime to survive under the harsh conditions of everyday life in apartheid South Africa … Kynoch's well-researched study expands our knowledge of the history of Basotho migrancy to South Africa's gold mines … Kynoch must be applauded."—International Journal of African Historical Studies

"This is a groundbreaking study that will force researchers in many different fields to investigate anew such issues as the complexity of Black township life under apartheid, the origins of South African violence and crime, gender relationships in the Black community, the underground economy, migration, urbanization, and resistance up to the present day. It is a book that should be in all research libraries, and that all South African scholars will find interesting and stimulating."—Canadian Journal of African Studies

"A rich and provocative look at gang activity and crime in South Africa.... An intriguing and thoughtful book."—University of Toronto Quarterly
Ohio University Press, 9780821416167, 240pp.
Publication Date: January 1, 2005
About the Author
Gary Kynoch is an assistant professor of history at Dalhousie University in Halifax, Nova Scotia. He is the author of numerous articles on crime, policing, and violence in urban South Africa.