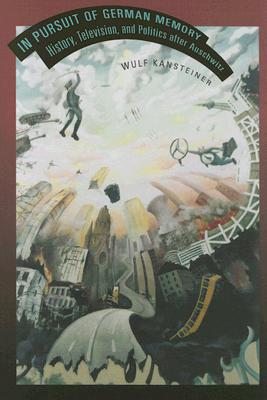 In Pursuit of German Memory
History, Television, and Politics after Auschwitz
Paperback

* Individual store prices may vary.
Other Editions of This Title:
Hardcover (1/15/2006)
Description
The collective memories of Nazism that developed in postwar Germany have helped define a new paradigm of memory politics. From Europe to South Africa and from Latin America to Iraq, scholars have studied the German case to learn how to overcome internal division and regain international recognition.

In Pursuit of German Memory: History, Television, and Politics after Auschwitz examines three arenas of German memory politics—professional historiography, national politics, and national public television—that have played key roles in the reinvention of the Nazi past in the last sixty years. Wulf Kansteiner shows that the interpretations of the past proposed by historians, politicians, and television producers reflect political and generational divisions and an extraordinary concern for Germany's image abroad. At the same time, each of these theaters of memory has developed its own dynamics and formats of historical reflection.

Kansteiner's analysis of the German scene reveals a complex social geography of collective memory. In Pursuit of German Memory underscores the fact that German memories of Nazism, like many other collective memories, combine two seemingly contradictory qualities: They are highly mediated and part of a global exchange of images and story fragments but, at the same time, they can be reproduced only locally, in narrowly circumscribed networks of communication.
Praise For In Pursuit of German Memory: History, Television, and Politics after Auschwitz…
"By juxtaposing his insightful readings of historiography with his analyses of mass media, Kansteiner makes even more powerfully clear how little impact historians have had on the public's understanding of the Nazi past.... He does not tell us how to escape our marginal status; but throughout this important book, he forcefully reminds us of how marginal we are and how little attention we've paid to arenas, like television, where many more people learn about the past than in the books we write."—Modern History
"Kansteiner has made an important contribution to the crowded and growing field of works that explore the way we look at the Federal Republic's quest to find a way of remembering the perpetrators, victims, and bystanders of the twentieth century's worst, and perhaps least comprehensible, crime."—H-German
"Unlike other academic literatures that evolve only slowly, the study of working through the Holocaust in Germany has experienced continued change, now well into its third generation. Wulf Kansteiner's new study provides an outstanding contribution to the literature."—Holocaust and Genocide Stories
"An enlightening synthesis of the topic."—Neue Politische Literatur
"Wulf Kansteiner's In Pursuit of German Memory is theoretically sophisticated and a model of empirical research. In a field too widely open to impressionistic essays, it represents an outstanding scholarly contribution."—Saul Friedländer, author of Nazi Germany and the Jews
Ohio University Press, 9780821416396, 440pp.
Publication Date: January 15, 2006
About the Author
Wulf Kansteiner is an assistant professor of history and the director of graduate studies at the Binghamton University of the State University of New York.