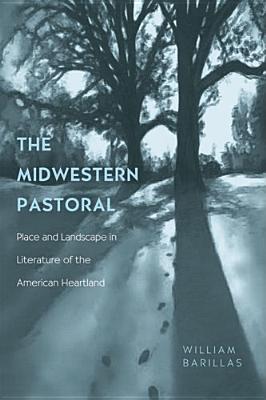 The Midwestern Pastoral
Place and Landscape in Literature of the American Heartland
Hardcover

* Individual store prices may vary.
Description
The midwestern pastoral is a literary tradition of place and rural experience that celebrates an attachment to land that is mystical as well as practical, based on historical and scientific knowledge as well as personal experience. It is exemplified in the poetry, fiction, and essays of writers who express an informed love of the nature and regional landscapes of the Midwest.
Drawing on recent studies in cultural geography, environmental history, and mythology, as well as literary criticism, The Midwestern Pastoral: Place and Landscape in Literature of the American Heartland relates Midwestern pastoral writers to their local geographies and explains their approaches. William Barillas treats five important Midwestern pastoralists—Willa Cather, Aldo Leopold, Theodore Roethke, James Wright, and Jim Harrison—in separate chapters. He also discusses Jane Smiley, U.S. Poet Laureate Ted Kooser, Paul Gruchow, and others.
For these writers, the aim of writing is not merely intellectual and aesthetic, but democratic and ecological. In depicting and promoting commitment to local communities, human and natural, they express their love for, their understanding of, and their sense of place in the American Midwest. Students and serious readers, as well as scholars in the growing field of literature and the environment, will appreciate this study of writers who counter alienation and materialism in modern society.
Praise For The Midwestern Pastoral: Place and Landscape in Literature of the American Heartland…
"This study establishes a distinct genre, the Midwestern pastoral—novels, poems, autobiographies, even nonfiction essays on ecology—that looks deeply into the landscape of the American Midwest, recognizing its underappreciated beauty, mourning its defilement by utilitarian farming practices and urban sprawl, and honoring what is best in its inhabitants, whether indigenous or immigrant."—Stephen Trout, author of Memorial Fictions: Willa Cather and the First World War

"(The Midwestern Pastoral) makes a significant contribution to cultural studies of American and midwestern literature, encouraging awareness of holistic ethical systems and recognition of the claims of ecological science and history.… The volume is particularly strong in its balanced interdisciplinary approach."—American Studies

"The Midwestern Pastoral adds a valuable voice to environmental and literary (and even 'eco-literary') dialogue. Scholars will be informed by (Barillas's) comments on the environment and the five writers he treats. And his five compelling and well-written chapters on Cather, Leopold, Roethke, Wright, and Harrison will send many occasional readers to revisit their works."—North Dakota Quarterly

"Updating and expanding our ideas about twentieth-century complex pastorals, William Barillas shows us the Midwest through the eyes of an old aesthetic made new. Reading The Midwestern Pastoral, with its fresh readings of Willa Cather, Aldo Leopold, Theodore Roethke, James Wright, Jim Harrison, Ted Kooser, and other writers, is like finding a map to a territory we thought we knew, only to find the landscape more various and interesting."—James I. McClintock, author of Nature's Kindred Spirits: Aldo Leopold, Joseph Wood Krutch, Edward Abbey, Annie Dillard, and Gary Snyder

"William Barillas's important new study is wide-ranging and insightful, gathering consequence as it explores the state of pastoral's conflicted present. He demonstrates how midwestern pastoral and its revisionist challenges take on added significance in the twenty-first-century era of globalization, the Midwest as Rust Belt, and, as Frost would say, what to make of a diminished thing."—Glen A. Love, author of Practical Ecocriticism: Literature, Biology, and the Environment
Ohio University Press, 9780821416600, 272pp.
Publication Date: February 15, 2006
About the Author
William Barillas is the author of The Midwestern Pastoral: Place and Landscape in Literature of the American Heartland, also from Ohio University Press, as well as many essays in scholarly and literary journals. His areas of focus include American literature, particularly literature of the Midwest, with special concern for poetry, environmental literature, and Latinx literature.
or
Not Currently Available for Direct Purchase