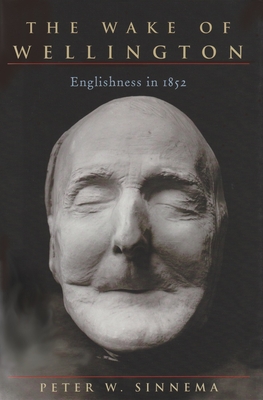 The Wake of Wellington
Englishness in 1852 (Series in Victorian Studies)
Hardcover

* Individual store prices may vary.
Description
Soldier, hero, and politician, the Duke of Wellington is one of the best-known figures of nineteenth-century England. From his victory at Waterloo over Napoleon in 1815, he rose to become prime minister of his country. But Peter Sinnema finds equal fascination in Victorian England's response to the Duke's death.

The Wake of Wellington considers Wellington's spectacular funeral pageant in the fall of 1852—an unprecedented event that attracted one and a half million spectators to London—as a threshold event against which the life of the soldier-hero and High-Tory statesman could be re-viewed and represented.

Canvassing a profuse and dramatically proliferating Wellingtoniana, Sinnema examines the various assumptions behind, and implications of, the Times's celebrated claim that the Irish-born Wellington "was the very type and model of an Englishman." The dead duke, as Sinnema demonstrates, was repeatedly caught up in interpretive practices that stressed the quasi-symbolic relations between hero and nation.

The Wake of Wellington provides a unique view of how in death Wellington and his career were promoted as the consummation of a national destiny intimately bound up with Englishness itself, and with what it meant to be English at midcentury.
Praise For The Wake of Wellington: Englishness in 1852 (Series in Victorian Studies)…
"The scholarship is impeccable, and the analysis both thorough and subtle; it is easy to read and full of useful and fascinating information.The Wake of Wellington should be read by anyone interested in the Victorian period."—Victorian Studies
"Sinnema provides fascinating insight into the process by which an Anglo-Irishman assumed Englishness and was appropriated (with some whitewashing of his personal life, and despite his political reputation) as a quintessential Englishman, the embodiment of the English traits of 'simplicity of character, common sense, and the veneration of duty,' whose 'death celebrations staged Englishness, London, and the [English] nation.'"—University of Toronto Quarterly
"Well-researched, well-written, well-organized, informative, and often entertaining."—Patrick Brantlinger, author of Dark Vanishings: Discourse on the Extinction of Primitive Races, 1800–1930
"The funeral on November 18, 1852, of Arthur Wellesley, the first Duke of Wellington, was less a laying to rest than an earthquake, exposing a range of fault lines in Victorian culture and producing aftershocks felt long after the event. These aftereffects are the subjects of Peter W. Sinnema's The Wake of Wellington, which focuses on neither the illustrious man nor his lavish funeral, but on the cultural repercussions that followed in the wake of his death."—Biography: An Interdisciplinary Quarterly
Ohio University Press, 9780821416792, 192pp.
Publication Date: April 21, 2006
About the Author
Peter W. Sinnema is an associate professor of English at the University of Alberta. He is author of Dynamics of the Pictured Page: Representing the Nation in the Illustrated London News and editor of the Oxford World's Classics edition of Self-Help by Samuel Smiles.