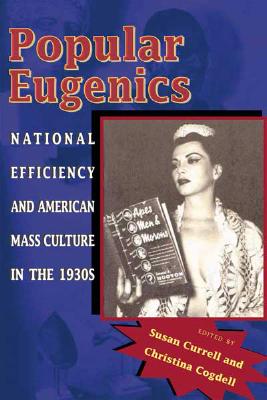 Popular Eugenics (Paperback)
National Efficiency and American Mass Culture in the 1930s
Ohio University Press, 9780821416921, 424pp.
Publication Date: November 21, 2006
Other Editions of This Title:
Hardcover (11/21/2006)
* Individual store prices may vary.
Description
The motto "Eugenics is the self-direction of human evolution" was part of the logo of the Second International Congress of Eugenics, held in 1921. However, by the 1930s, the disturbing legacy of this motto had started to reveal itself in the construction of national identities in countries throughout the world. Popular Eugenics is a fascinating look at how such tendencies emerged within the rhetoric, ideology, and visual aesthetics of U.S. mass culture during the 1930s, offering detailed analysis of the way that eugenics appeared within popular culture and images of modernity, particularly during the Depression era.

The essays in this generously illustrated collection demonstrate how, after the scientific foundations of the eugenics movement had been weakened in the 1930s, eugenic beliefs spread into the popular media, including newspapers, movies, museum exhibits, plays, and novels, and even fashion shows and comic strips.

Popular Eugenics shows that eugenic thought persisted in science and culture as well as in social policy and goes a long way toward explaining the durability of eugenic thinking and its effects on social policy in the United States.  Popular Eugenics will be of interest to scholars and students in a broad range of disciplines, especially American literature and history, popular culture, media studies, and the history of science.
About the Author
Susan Currell is a lecturer in American literature at the University of Sussex and the author of The March of Spare Time. Christina Cogdell is an assistant professor of art history at the College of Santa Fe and the author of Eugenic Design: Streamlining America in the 1930s.
Praise For Popular Eugenics: National Efficiency and American Mass Culture in the 1930s…
"Too often, popular culture historical topics receive a cursory glance. In contrast, Popular Eugenics is able to tease out significant historical themes from targeted analyses.... the book should be lauded for giving equal time to visual culture as it does to written culture."
— Journalism History
"This fascinating collection on eugenics during the 1930s offers a vantage point on 'ordinary eugenics.'... Their most provocative argument is that the ubiquity of eugenics in mass culture may be the most important explanation for why draconian policies attracted widespread support during the New Deal."
— The Historian
"Currell and Cogdell do a wonderful job of showcasing the complexity of the eugenic movement during the 1930s. More importantly, they do a service to readers by showing that even as eugenicists endured a widening public critique, they never lost their general sense of racial and class superiority or bias."
— Indiana Magazine of History