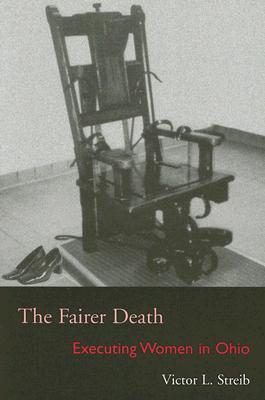 The Fairer Death
Executing Women in Ohio (Law Society & Politics in the Midwest)
Paperback

* Individual store prices may vary.
Other Editions of This Title:
Hardcover (9/30/2006)
Description
Women on death row are such a rarity that, once condemned, they may be ignored and forgotten. Ohio, a typical, middle-of-the-road death penalty state, provides a telling example of this phenomenon. The Fairer Death: Executing Women in Ohio explores Ohio's experience with the death penalty for women and reflects on what this experience reveals about the death penalty for women throughout the nation.
Victor Streib's analysis of two centuries of Ohio death penalty legislation and adjudication reveals no obvious exclusion of women or even any recognition of an issue of sex bias. In this respect, Ohio's justice system exemplifies the subtle and insidious nature of this cultural disparity.
Professor Streib provides detailed descriptions of the cases of the four women actually executed by Ohio since its founding and of the cases of the eleven women sentenced to death in Ohio in the current death penalty era (1973–2005). Some of these cases had a profound impact on death penalty law, but most were routine and drew little attention. A generation later, reversals and commutations have left only one woman on Ohio's death row.
Although Streib focuses specifically on Ohio, the underlying premise is that Ohio is, in many ways, a typical death penalty state. The Fairer Death provides insight into our national experience, provoking questions about the rationale for the death penalty and the many disparities in its administration.
Praise For The Fairer Death: Executing Women in Ohio (Law Society & Politics in the Midwest)…
"(Streib) finds a process fraught with bias, arbitrariness, caprice, and mistakes that make it less likely that women will be subject to the death penalty.... Highly recommended."—CHOICE

"A thoroughly researched and disquieting book that provides us with vivid snapshots of the few luckless and until now forgotten women who have broken into the typically all-male death penalty club in Ohio.... (H)is portrayals have national significance.... Their stories will haunt those who read them."—Criminal Justice magazine

"Streib provides a unique opportunity to reflect on the application of the death penalty to women over time. His richly detailed presentation sharpens the abiding question of the relationship between gender and the death penalty."—Phyllis L. Crocker, professor of law, Cleveland-Marshall College of Law, Cleveland State University

"Professor Streib demonstrates that one's understanding of the death penalty can always be expanded and refined by looking closely at the real cases."—Douglas A. Berman, William B. Saxbe Designated Professor of Law, Moritz College of Law at The Ohio State University

"Professor Streib has significantly added to the scholarship of capital punishment and its jurisprudence with this book."—Lyn Entzeroth, author of Capital Punishment and the Judicial Process
Ohio University Press, 9780821416945, 208pp.
Publication Date: September 30, 2006
About the Author
Victor L. Streib is the Ella and Ernest Fisher Professor of Law at Ohio Northern University. His many books and articles include Death Penalty: In a Nutshell, Gendering the Death Penalty, and Death Penalty for Juveniles.
or
Not Currently Available for Direct Purchase