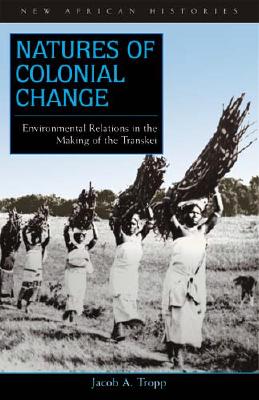 Natures of Colonial Change
Environmental Relations in the Making of the Transkei (New African Histories)
Paperback

* Individual store prices may vary.
Other Editions of This Title:
Hardcover (10/1/2006)
Description
In this groundbreaking study, Jacob A. Tropp explores the interconnections between negotiations over the environment and an emerging colonial relationship in a particular South African context—the Transkei—subsequently the largest of the notorious "homelands" under apartheid.

In the late nineteenth century, South Africa's Cape Colony completed its incorporation of the area beyond the Kei River, known as the Transkei, and began transforming the region into a labor reserve. It simultaneously restructured popular access to local forests, reserving those resources for the benefit of the white settler economy. This placed new constraints on local Africans in accessing resources for agriculture, livestock management, hunting, building materials, fuel, medicine, and ritual practices.

Drawing from a diverse array of oral and written sources, Tropp reveals how bargaining over resources—between and among colonial officials, chiefs and headmen, and local African men and women—was interwoven with major changes in local political authority, gendered economic relations, and cultural practices as well as with intense struggles over the very meaning and scope of colonial rule itself.

Natures of Colonial Change sheds new light on the colonial era in the Transkei by looking at significant yet neglected dimensions of this history: how both "colonizing" and "colonized" groups negotiated environmental access and how such negotiations helped shape the broader making and meaning of life in the new colonial order.
Praise For Natures of Colonial Change: Environmental Relations in the Making of the Transkei (New African Histories)…
"Jacob A. Tropp has written an impressive history of the state's capture of forest resources in the Transkei, between 1880 and 1930.... His book's central question is how a reading of the social interactions surrounding environmental access can reshape historical understanding."—American Historical Review

"Tropp's detailed case study of the KwaMatiwane area of the Transkei...is a major contribution to the historiography of the region."—H-SAfrica

"This environmental history is a multi-layered social history that is deeply concerned with issues of politics, culture, and gender."—Thomas McClendon, author of Genders and Generations Apart: Labor Tenants and Customary Law in Segregation-Era South Africa, 1920s to 1940s

"A fascinating study of African responses to the colonial restrictions on access to designated government forests."—International History Review

"Elegantly argued and lucidly written, this book illustrates the uneven process of dispossession that Africans suffered at the hands of a divided colonial administration."—Tamara Giles-Vernick, author of Cutting the Vines of the Past: Environmental Histories of the Central African Rain Forest
Ohio University Press, 9780821416990, 304pp.
Publication Date: October 1, 2006
About the Author
Jacob A. Tropp is an associate professor of history and Spencer Fellow in African Studies at Middlebury College. His articles have appeared in the Journal of African History, the Journal of Southern African Studies, the International Journal of African Historical Studies, and Kronos: The Journal of Cape History.