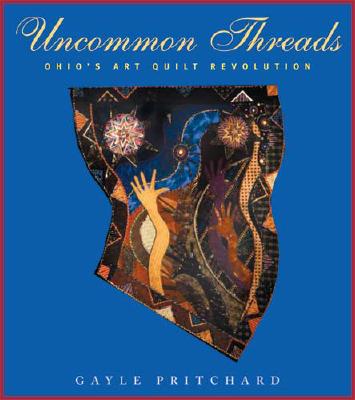 Uncommon Threads
Ohio's Art Quilt Revolution (Ohio Quilt Series)
Paperback

* Individual store prices may vary.
Description
Ohio's long quiltmaking heritage prepared the wayfor the contemporary "pioneer" artists of the 1970s and 1980s, who, through individual vision and dedication, have created a new art form and added a new chapter to quilt history. Uncommon Threads: Ohio's Art Quilt Revolution reveals for the first time the remarkable role Ohio artists, curators, institutions, and organizations have played in the evolution of today's internationalart quilt movement.

Against the backdrop of America's counterculture and civil rights movements, author Gayle A. Pritchard's compelling narrative threads its way through the emergence of the art quilt, from artists working in isolation to the explosive "big bang" of the first Quilt National and its inevitable reverberations. Pritchard provides a fascinating and personal glimpse into the private world of these unique artists through in-depth interviews, rare photographs, and abundant quilt illustrations.

As Uncommon Threads demonstrates, the art quilt movement could not have occurred without Ohio's unparalleled contribution. Quilt lovers around theworld will relish discovering this tale of the uncommon energy, vision, creativity, and devotion to self-expression that truly made a quilt revolution.
Praise For Uncommon Threads: Ohio's Art Quilt Revolution (Ohio Quilt Series)…
"Through these small biographies and beautiful illustrations, it is possible to learn how access to art education in Ohio catalyzed interest in the arts which resulted in the use of textiles to express views of modern society.... By the 1980s Ohio had established itself as a geographic center for this type of artistry."
— Ohio History

"The oral histories tirelessly gathered and artfully presented by Pritchard constitute an unparalleled contribution to the history of Ohio quilt making."
— Northwest Ohio History

"Gayle Pritchard's book is a godsend, a serious, carefully researched study of the history and continuing development of quiltmaking by artists, full of valuable new information and insights. Pritchard's deep focus and solid scholarship are models for all future studies of the genre."
— Robert Shaw, author of The Art Quilt

"(P)hotos of art quilts create an exuberant overall image of the works of many people who have been instrumental in establishing Art Quilts as a separate and relatively recent phenomena in the quilting world."
— Quilter's Muse

"Profiles of more than 20 quilters and arts organizations offer a broad, yet highly personal look at the movement and its makers. The book includes many photos of quilts, along with rare personal photographs and excerpts from in-depth interviews."
— The Professional Quilter

"By turns zany, wistful and whimsical, the quilts presented in this volume demonstrate the creative revolution in quiltmaking that occurred in Ohio in the 1970s and 80s…. Pritchard proves that the contemporary quilt movement could not have occurred without Ohio's unparalleled contribution."
— Reference & Research Book News
Ohio University Press, 9780821417065, 140pp.
Publication Date: November 22, 2006
About the Author
Ohio native Gayle A. Pritchard is a fiber artist,curator, lecturer, and teacher. Her public commissions include The Rock & Roll Hall of FameQuilt Project, the Smithsonian Craft Archivesin Washington, D.C., and the opening for thePeter B. Lewis building in Cleveland, Ohio.
or
Not Currently Available for Direct Purchase