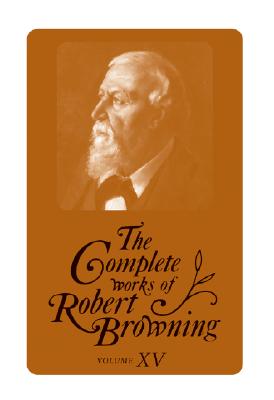 The Complete Works of Robert Browning, Volume XV
With Variant Readings and Annotations (Complete Works Robert Browning #15)
Hardcover

* Individual store prices may vary.
Description
In the 1880s, the aging Browning showed once again the remarkable versatility of his lyric and narrative talents. Ranging across eras and cultures, the books here reveal his late thoughts about history, myth, legend, faith, love, and desire. He had never been more popular, and the founding of the BrowningSociety in 1881 expanded both his audience and his sense of his place in English letters.The first title in Volume XV is Dramatic Idylls, Second Series (1880). Taking his subjects from classical history, colonial India, Arabian legend, medieval sorcery, Jewish folk tales, and Greek myth, Browning startles the reader with the rapidity of his thought and the inventiveness of his art. In Jocoseria (1883) Browning's subjects range across time and space from Hebraic legend to the England of the Romantics. Such variety helped attract new readers: Jocoseria was immediately successful, and a second edition was printed in the same year as the first.Although Browning's next volume, Ferishtah's Fancies (1884), was so popular that three editions were printed in less than two years, this artful string of anecdotes and lyrics has attracted little favorable criticism. The materials— Persian legends and Arabic backgrounds—chimed with the wildly popularOrientalism of FitzGerald's Rubáiyát, Whistler's Peacock Room, and Alma-Tadema's paintings. But the thought was pure Browning in his most optimistic vein, and not at all in tune with the growing pessimism of the day.As always in this series of critical editions, a complete record of textual variants is provided, as well as extensive explanatory notes.
Praise For The Complete Works of Robert Browning, Volume XV: With Variant Readings and Annotations (Complete Works Robert Browning #15)…
"The Ohio edition offers a virtual rare bookroom for any Browning poem where the determined critic can trace the author's intentions and craft."— Victorian Poetry
Ohio University Press, 9780821417270, 400pp.
Publication Date: April 16, 2007
About the Author
Allan Dooley is general editor of The Complete Works of Robert Browning and is professor emeritus at Kent State University.David Ewbank is professor emeritus at Kent State University.The late Paul D. L. Turner was fellow emeritus of Linacre College, Oxford.The late Jack W. Herring was the director of the Armstrong Browning Library at Baylor University.
or
Not Currently Available for Direct Purchase