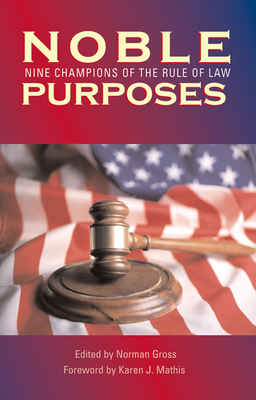 Noble Purposes
Nine Champions of the Rule of Law
Hardcover

* Individual store prices may vary.
Description
Throughout the history of the United States, the acts of a few have proved to be turning points in the way our legal system has treated the least of us. The nine individuals whose deeds are recounted have compelling stories, and though they remain unknown to the general public, their commitment to the rule of law has had a lasting impact on our nation.Noble Purposes brings their stories to life. It describes the contributions of such individuals as James Alexander, the guiding and central force in the colonial-era trial of John Peter Zenger, which sowed the seeds for the American Revolution and the constitutional guarantee of a free press.In the 1870s, Hugh Lennox Bond stared down threats as judge in the trials of the South Carolina Ku Klux Klan, while Clara Shortridge Foltz overcametremendous resistance during her fifty-year law practice, which included advocacy of public defender offices.Early last century, Louis Marshall paved the way for the rights of minorities in America and abroad, while Francis Biddle, FDR's attorney general, soughtto maintain civil liberties during World War II, arguing against the internment of Japanese Americans and later serving as the American judge in the Nuremberg trials.Edited by legal scholar Norman Gross and written by leading legal historians from around the country, the profiles presented in Noble Purposes tell the stories of these and other individuals who stood firmly in support of the rule of law, often against great odds.
Ohio University Press, 9780821417317, 152pp.
Publication Date: February 6, 2007
About the Author
Norman Gross is the former director of theABA Museum of Law in Chicago and the editorof America's Lawyer-Presidents: From Law Officeto Oval Office. He lives in Sedona, Arizona.