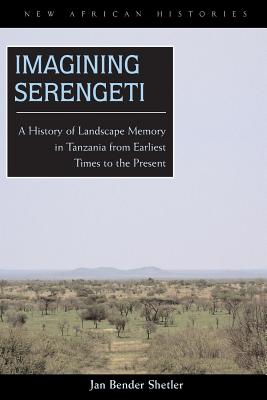 Imagining Serengeti (Paperback)
A History of Landscape Memory in Tanzania from Earliest Times to the Present (New African Histories)
Ohio University Press, 9780821417508, 392pp.
Publication Date: June 15, 2007
Other Editions of This Title:
Hardcover (6/15/2007)
* Individual store prices may vary.
Description
Many students come to African history with a host of stereotypes that are not always easy to dislodge. One of the most common is that of Africa as safari grounds—as the land of expansive, unpopulated game reserves untouched by civilization and preserved in their original pristine state by the tireless efforts of contemporary conservationists. With prose that is elegant in its simplicity and analysis that is forceful and compelling, Jan Bender Shetler brings the landscape memory of the Serengeti to life. She demonstrates how the social identities of western Serengeti peoples are embedded in specific spaces and in their collective memories of those spaces. Using a new methodology to analyze precolonial oral traditions, Shetler identifies core spatial images and reevaluates them in their historical context through the use of archaeological, linguistic, ethnographic, ecological, and archival evidence. Imagining Serengeti is a lively environmental history that will ensure that we never look at images of the African landscape in quite the same way.
About the Author
Jan Bender Shetler is an associate professor of African and world history at Goshen College in Goshen, Indiana. She is the author of Telling Our Own Stories: Local Histories from South Mara, Tanzania.
Praise For Imagining Serengeti: A History of Landscape Memory in Tanzania from Earliest Times to the Present (New African Histories)…
"This remarkable work on the Serengeti area in Tanzania will be of great value to Africans and non-Africans alike, including researchers in African history, anthropology, and geography.... Highly recommended."— Choice
"Jan Bender Shetler has written an exceptionally erudite work that contributes in seminal ways to the fields of both African and environmental history and provides an innovative new model for analysing oral histories through an environmental lens… . Highly recommended!"—Journal of Africa
"Imagining Serengeti takes its place in a sophisticated literature on landscape and ecology in Africa.…Shetler's contribution is a particularly distinguished one, not least for the array of approaches she has brought to her project.…(T)his is a landmark volume, and it will be required reading in African and environmental history."—American Historical Review
"Shetler's book provides a completely new analysis of the Serengeti debate by adding the voices of a forgotten population, the peoples of the western Serengeti.... The centrality of the landscape to Serengeti peoples' identitites, the complexity of local environmental knowledge, and the deep historical and emotional attachments to place are thus illustrated in vivid detail."—African Studies Review
"Shetler provides a thorough critique of...colonial conservation policy, which, without reference to the region's ecological or social past, redefined the Serengeti as a wilderness, initiating a process of fortress conservation.... The book's pronounced spatial perspectives and ecological focus demonstrate how meaningful the history of a place is to the people whose ancestors claimed, measured and manipulated this region."—Journal of African History