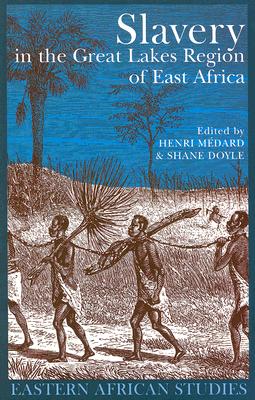 Slavery in the Great Lakes Region of East Africa (Eastern African Studies) (Paperback)
Ohio University Press, 9780821417935, 288pp.
Publication Date: November 16, 2007
Other Editions of This Title:
Hardcover (11/16/2007)
Paperback (1/1/2008)
Hardcover (12/1/2007)
* Individual store prices may vary.
Description
Slavery in the Great Lakes Region of East Africa is a collection of ten studies by the most prominent historians of the region. Slavery was more important in the Great Lakes region of Eastern Africa than often has been assumed, and Africans from the interior played a more complex role than was previously recognized. The essays in this collection reveal the connections between the peoples of the region as well as their encounters with the conquering Europeans. The contributors challenge the assertion that domestic slavery increased in Africa as a result of the international trade. Slavery in this region was not a uniform phenomenon and the line between enslaved and non-slave labor was fine. Kinship ties could mark the difference between free and unfree labor. Social categories were not always clear-cut and the status of a slave could change within a lifetime.

Contents:
- Introduction by Henri Médard
- Language Evidence of Slavery to the Eighteenth Century by David Schoenbrun
- The Rise of Slavery & Social Change in Unyamwezi 1860–1900 by Jan-Georg Deutsch
- Slavery & Forced Labour in the Eastern Congo 1850–1910 by David Northrup
- Legacies of Slavery in North West Uganda 'The One-Elevens' by Mark Leopold
- Human Booty in Buganda: The Seizure of People in War, c.1700–c.1900 by Richard Reid
- Stolen People & Autonomous Chiefs in Nineteenth-Century Buganda by Holly Hanson
- Women's Experiences of Slavery in Late Nineteenth- & Early Twentieth-Century Uganda by Michael W. Tuck
- Slavery & Social Oppression in Ankole 1890–1940 by Edward I. Steinhart
- The Slave Trade in Burundi & Rwanda at the Beginning of German Colonisation 1890–1906 by Jean-Pierre Chretien
- Bunyoro & the Demography of Slavery Debate by Shane Doyle
About the Author
Henri Médard is at M.A.L.D in Montreuil.
Shane Doyle is a lecturer in history at Leeds University.
Praise For Slavery in the Great Lakes Region of East Africa (Eastern African Studies)…
"Penetration of the region by slave dealers led to a rapid expansion of slavery in the nineteenth century, but this book makes clear that slavery has a long history there."—The Journal of African History
"Slavery in the Great Lakes takes us away from the coast to the much neglected interior. … (T)his book is a much needed addition to the literature on the East African slave trade and will be very useful in the classroom."—Journal of Third World Studies
"(Slavery in the Great Lakes Region of East Africa) goes well beyond a consideration of slavery within the kingdoms of Buganda and Bunyoro, to consider wider issues in the study of slavery such as its relationship to warfare, gender relations, ethnicity, and colonialism. By doing so, it places the Great Lakes—a region that is typically located at the periphery of the commercial slave trade that flourished to the north, east, and west—at the center of historical analysis."—The International Journal of African Historical Studies
"This book is a pioneer study devoted to answering basic questions such as the chronology of slavery in the region, what forms it took, how it changed over time, how central it was to the societies under study, and what its connections were to the much better-known slave trades from the interior to the East African coast and from Southern Sudan northward."—African Studies Review
or
Not Currently Available for Direct Purchase