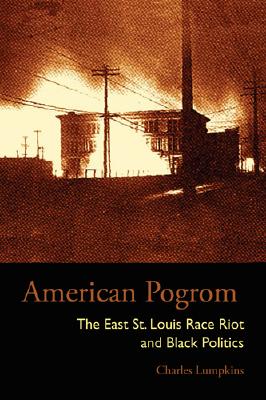 American Pogrom
The East St. Louis Race Riot and Black Politics (Law Society & Politics in the Midwest)
Paperback

* Individual store prices may vary.
Other Editions of This Title:
Hardcover (7/1/2008)
Description
On July 2 and 3, 1917, a mob of white men and women looted and torched the homes and businesses of African Americans in the small industrial city of East St. Louis, Illinois. When the terror ended, the attackers had destroyed property worth millions of dollars, razed several neighborhoods, injured hundreds, and forced at least seven thousand black townspeople to seek refuge across the Mississippi River in St. Louis, Missouri. By the official account, nine white men and thirty-nine black men, women, and children lost their lives.
In American Pogrom: The East St. Louis Race Riot and Black Politics, Charles Lumpkins reveals that the attacks were orchestrated by businessmen intent on preventing black residents from attaining political power and determined to clear the city of African Americans.
After the devastating riots, black East St. Louisans participated in a wide range of collective activities that eventually rebuilt their community and restored its political influence. Lumpkins situates the activities of the city's black citizens in the context of the African American quest for freedom, citizenship, and equality. This study of African American political actions in East St. Louis ends in 1945, on the eve of the post–World War II civil rights movement that came to galvanize the nation in the 1950s and 1960s.
Praise For American Pogrom: The East St. Louis Race Riot and Black Politics (Law Society & Politics in the Midwest)…
"Lumpkins reveals the engagement of political and economic insiders in shaping both the violence and its aftermath, and in so doing he presents a model for understanding racial violence that both highlights black political activism and reminds us of the costs that maintaining white supremacy imposed on the black community and the nation."—The Journal of American History

"Charles Lumpkins provides an important reinterpretation of the 1917 East St. Louis Race Riot. In American Pogrom, he challenges Elliott Rudwick's classic Civil Rights-era account, Race Riot at East St. Louis, July 2, 1917 (1964).… Reflecting a generational paradigm shift in historical scholarship, Lumpkins respectfully repudiates Rudwick's interpretation."—Journal of Illinois History

"In expanding on the sources of Rudwick and McLaughlin, Lumpkin instead emphasizes black political activity and community-building that—given the voting potential of oncoming black migrants—threatened white powerbrokers, who promoted racial fear and violence."—American Studies Journal

"Whereas previous scholars placed the responsibility for the riot on white working-class males concerned about social strife, Lumpkins argues that city elites, women, and political bosses played an integral role in this destructive demonstration of white superiority."—Indiana Magazine of History

"American Pogrom deserves a wide audience among historians, although some readers may find themselves overwhelmed by the machinations of East St. Louis politics.… Lumpkins's insights should intrigue and inspire other scholars."—Ohio History
Ohio University Press, 9780821418031, 336pp.
Publication Date: July 1, 2008
About the Author
Charles Lumpkins teaches history and African American studies at the Pennsylvania State University.
or
Not Currently Available for Direct Purchase