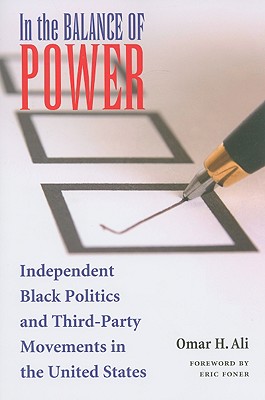 In the Balance of Power (Paperback)
Independent Black Politics and Third-Party Movements in the United States
Ohio University Press, 9780821418079, 216pp.
Publication Date: August 13, 2008
Other Editions of This Title:
Hardcover (8/13/2008)
* Individual store prices may vary.
Description
Historically, most black voters in the United States have aligned themselves with one of the two major parties: the Republican Party from the time of the Civil War to the New Deal and, since the New Deal—and especially since the height of the modern civil rights movement—the Democratic Party. However, as In the Balance of Power convincingly demonstrates, African Americans have long been part of independent political movements and have used third parties to advance some of the most important changes in the United States, notably the abolition of slavery, the extension of voting rights, and the enforcement of civil rights.

Since the early nineteenth century, there has been an undercurrent of political independence among African Americans. They helped develop the Liberty Party in the 1840s and have continued to work with third parties to challenge the policies of the two major parties. But despite the legal gains of the modern civil rights movement, elements of Jim Crow remain deeply embedded in our electoral process.

In the Balance of Power presents a history and analysis of African American third-party movements that can help us better understand the growing diversity among black voters today.
About the Author
Omar H. Ali is dean of Lloyd International Honors College and professor of global and comparative African diaspora history at the University of North Carolina, Greensboro. A graduate of the London School of Economics, he received his Ph.D. in history from Columbia University and was named the Carnegie Foundation North Carolina professor of the year.
Praise For In the Balance of Power: Independent Black Politics and Third-Party Movements in the United States…
"This timely book tracks African American political activity from the Revolutionary period into the 21st century. Essentially, Ali argues that African Americans achieved greater political influence outside of the two-party system, participating in third-party politics or through independent black political movements…. A well-documented and well-presented argument…original and thought provoking. Highly recommended."—CHOICE
"Ali presents an important survey of the most popular independent and third party movements among African Americans since the founding of the country [and] captures the most important nuances of the ways that African Americans have fought for their own political and economic interests."—Journal of African American Studies
"For far too long, conventional wisdom regarding black political participation has suggested that they comprise a monolithic, liberal voting bloc that moves in lockstep with the Democratic Party. Ali, however, shows that there are competing ideological traditions in black thought and that black voters will use other means to advance their interests when they are shut out by the two major parties."—Journal of American Ethnic History
"This is the first full-length scholarly work on African American political independents and their sometimes allies, African American third-party activists. No other historical work has undertaken such a longitudinal study of this group of unattache
"Ali links economics to the formation of third-party movements…The connections between the expanding trade union movement in the late 19th and early 20th centuries and black political activism were strengthened through third-party movements ag
"This book reveals the extensive political activity that black Americans engaged in, even in the period of legalized slavery, in their fight for equal treatment under the law. Black activists tried to work with virtually every political party that was formed, from 1840 on … Anyone interested in U.S. political history will enjoy this book."
— Ballot Access News
"Ali details how African Americans have used independent political tactics—including creating or joining existing third parties, supporting third-party candidates, running fusion campaigns, and lobbying elected officials through powerful organizations—to advance their political and economic interests. Sometimes the outcomes were favorable, other times they were not. But without independent political pressure, progressive and social change would not have occurred…. Ali's overview serves as an excellent starting point for anyone interested in this topic."
— South Carolina Historical Magazine
"This is an impressive and important study. In the Balance of Power will stimulate and motivate others to think in innovative and interesting ways about the role and functions of African Americans in third-party movements as well as their attempts to break free of the partisanship that rarely delivers on their social and economic needs in America. This work will be essential reading for those political activists who are searching for ways to reform and remake the American party system."
— Hanes Walton, Jr., Professor of Political Science, University of Michigan, Ann Arbor