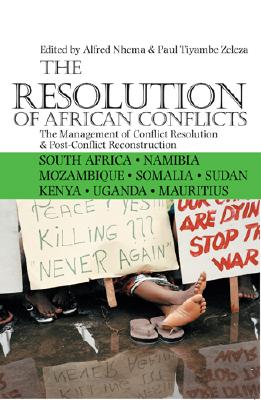 The Resolution of African Conflicts (Paperback)
The Management of Conflict Resolution and Post-Conflict Reconstruction
Ohio University Press, 9780821418086, 224pp.
Publication Date: March 18, 2008
* Individual store prices may vary.
Description
"These two volumes clearly demonstrate the efforts by a wide range of African scholars to explain the roots, routes, regimes and resolution of African conflicts and how to re-build post-conflict societies. They offer sober and serious analyses, eschewing the sensationalism of the western media and the sophistry of some of the scholars in the global North for whom African conflicts are at worst a distraction and at best a confirmation of their pet racist and petty universalist theories."
—From the introduction by Paul Tiyambe Zeleza

This book offers analyses of a range of African conflicts and demonstrates that peace is too important to be left to outsiders.
About the Author
Dr. Alfred G. Nhema is the executive secretary of OSSREA, the Organization for Social Science Research in Eastern and Southern Africa, Addis Ababa. He is the author of Democracy in Zimbabwe: From Liberation to Liberalization. He is also editor of The Quest for Peace in Africa: Transformations, Democracy and Public Policy (2004) ; and co-editor of Managing and Resolving African Conflicts: The Causes and Costs of Conflicts. Vol. 1, with Paul Tiyambe Zeleza, (2007) and Managing and Resolving African Conflicts: Conflict Resolution and Post-conflict Reconstruction. Vol. 2, with Paul Tiyambe Zeleza, (2007)
Paul Tiyambe Zeleza is Dean of the Bellarmine College of Liberal Arts and Presidential Professor of African American Studies and History at Loyola Marymount University in Los Angeles.
Praise For The Resolution of African Conflicts: The Management of Conflict Resolution and Post-Conflict Reconstruction…
"(The Resolution of African Conflicts's) contribution to the current debate on conflict in Africa cannot be overemphasized. It is a must-read for all professors and graduate students of African conflicts, researchers, policymakers, statesman, elites, and all those interested in peace on the continent."—The Historian
or
Not Currently Available for Direct Purchase