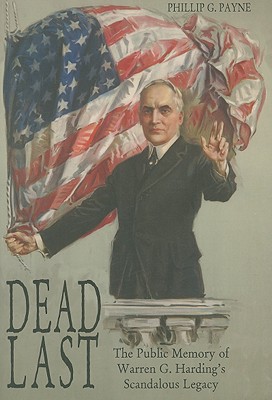 Dead Last
The Public Memory of Warren G. Harding's Scandalous Legacy
Paperback

* Individual store prices may vary.
Other Editions of This Title:
Hardcover (2/10/2009)
Description
2009 CHOICE Outstanding Academic Title


If George Washington and Abraham Lincoln are the saints in America's civil religion, then the twenty-ninth president, Warren G. Harding, is our sinner. Prior to the Nixon administration, the Harding scandals were the most infamous of the twentieth century. Harding is consistently judged a failure, ranking dead last among his peers.

By examining the public memory of Harding, Phillip G. Payne offers the first significant reinterpretation of his presidency in a generation. Rather than repeating the old stories, Payne examines the contexts and continued meaning of the Harding scandals for various constituencies. Payne explores such topics as Harding's importance as a midwestern small-town booster, his rumored black ancestry, the role of various biographers in shaping his early image, the tension between public memory and academic history, and, finally, his status as an icon of presidential failure in contemporary political debates. Harding was a popular president and was widely mourned when he died in office in 1923; but with his death began the construction of his public memory and his fall from political grace.

In Dead Last, Payne explores how Harding's name became synonymous with corruption, cronyism, and incompetence and how it is used to this day as an example of what a president should not be.
Praise For Dead Last: The Public Memory of Warren G. Harding's Scandalous Legacy…
"Phillip Payne's Dead Last accomplishes a task for which historians of political thought will be very grateful: his assessment of Harding's ideology of 'civic boosterism' in the 1920s is truly insightful and original."
— Clarence E. Wunderlin, Jr., editor, The Papers of Robert A. Taft
"(I)t took more than scandal to sink Harding to the bottom of the presidential pile. (Payne) says, for example, that the very qualities that got Harding elected in 1920, such as his boosterism for small-town America, turned against him after his death."
— Mansfield News Journal
"(A) fascinating exploration of the man's reputation in his own time and of how we have continued to play upon Harding's reputation over the years since then. Payne's concluding chapter on the smug (my word) presidential ratings by historians, and of the continued convenience of using Harding to this day as an example of failure is a fascinating one."
— Library Journal
"This examination, Payne's comparisons to more recent presidents, and his examination of the use of the race card in politics help expand the scholarship in a number of fields, including history, political science, and sociology."
— The Journal of American History
"More so than previous historians, Phillip Payne has presented a much more nuanced understanding of Harding's political legacies. His well-structured narrative leaves Harding's memory in the same place as his monument: balancing multiple eras, designs, and interpretations, and ultimately, left to future generations to evaluate fully."
— Northwest Ohio History
"Payne gives the reader much to consider and convincingly makes the case that Harding has remained relevant until today because he has become the benchmark by which other presidential failings are assessed, concluding that 'Harding continues to hover at the edge of our national memory, where he is rediscovered when[ever] one of our leaders fails'."
— American Historical Review
"Payne's reappraisal of the Harding myth is first-rank scholarship and makes an impressive contribution to the debates about the life and misfortunes of Warren Harding. Summing Up: Essential."
— Choice
Ohio University Press, 9780821418192, 296pp.
Publication Date: February 10, 2009
About the Author
Phillip G. Payne is an associate professor of history at St. Bonaventure University in western New York, where he teaches courses in United States and public history. He worked for the Ohio Historical Society at the Warren G. Harding Home.
or
Not Currently Available for Direct Purchase