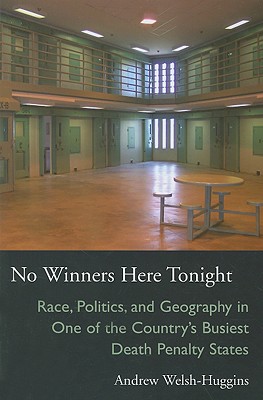 No Winners Here Tonight
Race, Politics, and Geography in One of the Country's Busiest Death Penalty States (Law Society & Politics in the Midwest)
Paperback

* Individual store prices may vary.
Other Editions of This Title:
Hardcover (1/13/2009)
Description
Few subjects are as intensely debated in the United States as the death penalty. Some form of capital punishment has existed in America for hundreds of years, yet the justification for carrying out the ultimate sentence is a continuing source of controversy. No Winners Here Tonight explores the history of the death penalty and the question of its fairness through the experience of a single state, Ohio, which, despite its moderate midwestern values, has long had one of the country's most active death chambers.
In 1958, just four states accounted for half of the forty-eight executions carried out nationwide, each with six: California, Georgia, Ohio, and Texas. By the first decade of the new century, Ohio was second only to Texas in the number of people put to death each year. No Winners Here Tonight looks at this trend and determines that capital punishment has been carried out in an uneven fashion from its earliest days, with outcomes based not on blind justice but on the color of a person's skin, the whim of a local prosecutor, or the biases of the jury pool in the county in which a crime was committed.
Andrew Welsh-Huggins's work is the only comprehensive study of the history of the death penalty in Ohio. His analysis concludes that the current law, crafted by lawmakers to punish the worst of the state's killers, doesn't come close to its intended purpose and instead varies widely in its implementation. Welsh-Huggins takes on this controversial topic evenhandedly and with respect for the humanity of the accused and the victim alike. This exploration of the law of capital punishment and its application will appeal to students of criminal justice as well as those with an interest in law and public policy.
Praise For No Winners Here Tonight: Race, Politics, and Geography in One of the Country's Busiest Death Penalty States (Law Society & Politics in the Midwest)…
"This book is beautifully written. Specialists who already know the broad outlines will be interested in learning the Ohio story, and for nonspecialists, the book will be an engaging introduction to the subject."—Stuart Banner, author of The Death Penalty: An American History
"No Winners Here Tonight is a sophisticated and critical analysis of Ohio's death penalty system in the post-Furman era. Among the book's many strengths is its focus on the shortcomings built into Ohio's death penalty statute that render it unable to deliver fair and impartial justice."—Northwest Ohio History
"I highly recommend this book to academic law libraries, especially those that support victim's rights clinics or innocence projects. I also recommend it for prison libraries."—Law Library Journal
"This book seeks to document that there is nothing new about the 'capricious, uneven' way in which the death penalty is meted out. Welsh-Huggins makes this case anecdotally, recalling case-by-case problems that have plagued and continue to plague Ohio's death penalty system."—Choice
"In his groundbreaking new book, No Winners Here Tonight, Associated Press reporter Andrew Welsh-Huggins examines Ohio's death penalty from a historical perspective and concludes we've been asking the wrong questions. The point, Welsh-Huggins tells us, is not whether capital punishment is moral but if it's fair…. No Winners Here Tonight (should be) required reading for death penalty opponents and supporters alike."—The Blade
Ohio University Press, 9780821418345, 248pp.
Publication Date: January 13, 2009
About the Author
Andrew Welsh-Huggins is a reporter for the Associated Press in Columbus, Ohio, and the Nero Award–finalist author of six mysteries from Swallow Press featuring Andy Hayes, a former Ohio State and Cleveland Browns quarterback turned private eye. Welsh-Huggins is also the editor of Columbus Noir (Akashic Books) and his short fiction has appeared in publications including Ellery Queen Mystery Magazine, Mystery Weekly, and Mystery Tribune. His nonfiction book No Winners Here Tonight (Ohio University Press) is the definitive history of the death penalty in Ohio.
or
Not Currently Available for Direct Purchase