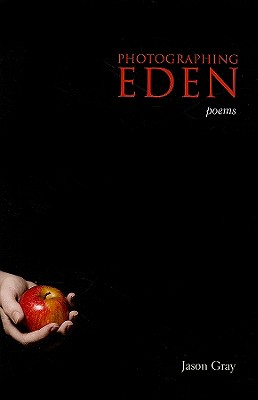 Photographing Eden (Paperback)
Poems (Hollis Summers Poetry Prize)
Ohio University Press, 9780821418369, 72pp.
Publication Date: February 3, 2009
* Individual store prices may vary.
Description
Winner of the 2008 Hollis Summers Poetry Prize


Photographing Eden presents the first full-length collection of poems by a major new talent. The work meditates on several ideas, the crux of which is Eden: spirituality, environmentalism, and the relationships between men and women. Observing,
often through the lens of a camera, our state in the world, the poems try to focus sharply on what often seems a blur. The poems are always attentive to artistic mediums and the craft behind them because our struggle is to make something perfect in the imperfect world in which we live, while acknowledging the impossibility of that quest. Gray's poems range all over, from adventures in Egyptian ruins with machine-gun-toting tourist police to the western edge of the foggy Irish coastline, and to the mythic past, where Adam and Eve visit a zoo and Eden has become a nature preserve.
About the Author
Jason Gray is the author of two chapbooks of poetry, How to Paint the Savior Dead, winner of the Wick Chapbook Award, and Adam & Eve Go to the Zoo. His poems and reviews have appeared in Poetry, American Poetry Review, Southern Review, and elsewhere. He coedits the online literary journal Unsplendid, www.unsplendid.com.
Praise For Photographing Eden: Poems (Hollis Summers Poetry Prize)…
"Jason Gray's gift is quiet but profound. He brings the same respectful eye to nature as to acts of art — an eye that adds its own light to the occasions. A book for delectation."
— Heather McHugh, final judge
"(Gray's) verse is the evident product of a disciplined mind, and it is even, more frequently than one might expect, beautiful."
— Pleiades
"Few poets are more with it than Jason Gray. It is better than that: he is equally at home with the urban and the 'natural,' the present and the past. He is enabled by a secure but unobtrusive technique.... His phrasing can be startling without being freakish. It is the rightness that startles."
— Turner Cassity
"Photographing Eden is a book of postlapsarian poems intent not on naming the creatures of a new world, but on naming—and thus trying to reclaim—the losses of this one. By turns dark and whimsical, these poems offer field guides and museum tours, photographs and paintings, of our mythological prehistory and our shadowy future."
— A. E. Stallings