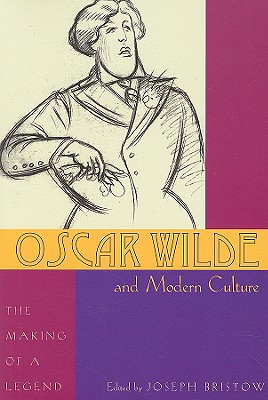 Oscar Wilde and Modern Culture
The Making of a Legend
Paperback

* Individual store prices may vary.
Other Editions of This Title:
Hardcover (3/3/2009)
Description
Oscar Wilde and Modern Culture: The Making of a Legend explores the meteoric rise, sudden fall, and legendary resurgence of an immensely influential writer's reputation from his hectic 1881 American lecture tour to recent Hollywood adaptations of his dramas. Always renowned—if not notorious—for his fashionable persona, Wilde courted celebrity at an early age. Later, he came to prominence as one of the most talented essayists and fiction writers of his time.

In the years leading up to his two-year imprisonment, Wilde stood among the foremost dramatists in London. But after he was sent down for committing acts of "gross indecency" it seemed likely that social embarrassment would inflict irreparable damage to his legacy. As this volume shows, Wilde died in comparative obscurity. Little could he have realized that in five years his name would come back into popular circulation thanks to the success of Richard Strauss's opera Salome and Robert Ross's edition of De Profundi. With each succeeding decade, the twentieth century continued to honor Wilde's name by keeping his plays in repertory, producing dramas about his life, adapting his works for film, and devising countless biographical and critical studies of his writings.

This volume reveals why, more than a hundred years after his demise, Wilde's value in the academic world, the auction house, and the entertainment industry stands higher than that of any modern writer.

Praise For Oscar Wilde and Modern Culture: The Making of a Legend…
"If Oscar Wilde was, by all accounts, the most desirable guest of his time—magnetic, provocative, and outrageously funny—then Joseph Bristow is, on the evidence of this volume (Oscar Wilde and Modern Culture), the most accomplished host of our own age."
— The Journal of Pre-Raphaelite Studies

"Authoritative."
— San Francisco Chronicle

"Though other works have looked at particular cultural aspects of Wilde's influence…none casts as interesting and broad a cultural net, with as much knowledge and nuance as this volume does.… Highly recommended."
— CHOICE

"Joseph Bristow's Oscar Wilde and Modern Culture: The Making of a Legend brings together a dozen essays, most of which are devoted to illustrating Richard Ellmann's assertion that 'Wilde is one of us,' and all of which, taken together, richly complicate Ellman's remark by making clear that we—the inheritors of Wilde's life and work—have been an enormously varied group, interpreting and appropriating that legacy with a promiscuously Wildean freedom."
— Victorian Studies

"This is an impressive and important book that all scholars of Wilde, the fin-de-siécle, and modernism will find useful."
— Studies in English Literature 1500–1900
Ohio University Press, 9780821418383, 448pp.
Publication Date: March 3, 2009
About the Author
Joseph Bristow is a professor of English at the University of California, Los Angeles. His recent books include the variorum edition of Oscar Wilde's The Picture of Dorian Gray and The Fin-de-Sie`cle Poem: English Literary Culture and the 1890s.