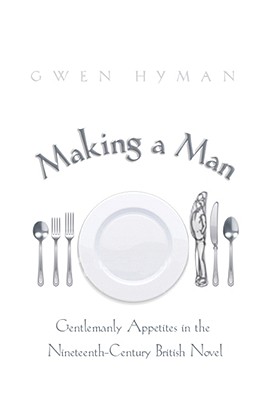 Making a Man (Paperback)
Gentlemanly Appetites in the Nineteenth-Century British Novel
Ohio University Press, 9780821418543, 296pp.
Publication Date: May 12, 2009
Other Editions of This Title:
Hardcover (5/12/2009)
* Individual store prices may vary.
Description
Gruel and truffles, wine and gin, opium and cocaine. Making a Man: Gentlemanly Appetites in the Nineteenth-Century British Novel addresses consumption of food, drink, and drugs in the conspicuously consuming nineteenth century in order to explore the question of what, in fact, makes a man in novels of the period. Gwen Hyman analyzes the rituals of dining room, drawing room, opium den, and cocaine lab, and the ways in which these alimentary behaviors make, unmake, and remake the gentlemanly body.

The gentleman, Making a Man argues, is a dangerous alimental force. Threatened with placelessness, he seeks to locate and mark himself through his feasting and fasting. But in doing so, he inevitably threatens to starve, to subsume, to swallow the community around him. The gentleman is at once fundamental and fundamentally threatening to the health of the nation: his alimental monstrousness constitutes the nightmare of the period's striving, anxious, alimentally fraught middle class.

Making a Man makes use of food history and theory, literary criticism, anthropology, gender theory, economics, and social criticism to read gentlemanly consumers from Mr. Woodhouse, the gruel-eater in Jane Austen's Emma, through the vampire and the men who hunt him in Bram Stoker's Dracula. Hyman argues that appetite is a crucial means of casting light on the elusive identity of the gentleman, a figure who is the embodiment of power and yet is hardly embodied in Victorian literature.
About the Author
Gwen Hyman is assistant professor of humanities at The Cooper Union in New York City, where she also directs the Center for Writing and Language Arts. Her work on food, literature, and culture has been published in Gastronomica and Victorian Literature and Culture, and she is the coauthor, with Andrew Carmellini, of Urban Italian: True Stories and Simple Recipes from a Life in Food.

or
Not Currently Available for Direct Purchase