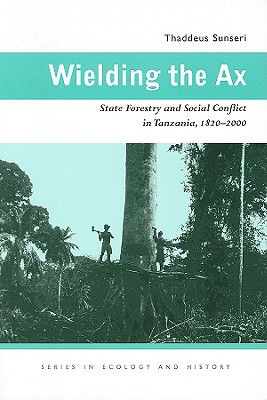 Wielding the Ax
State Forestry and Social Conflict in Tanzania, 1820–2000 (Ecology & History)
Paperback

* Individual store prices may vary.
Other Editions of This Title:
Hardcover (3/9/2009)
Description
Forests have been at the fault lines of contact between African peasant communities in the Tanzanian coastal hinterland and outsiders for almost two centuries. In recent decades, a global call for biodiversity preservation has been the main challenge to Tanzanians and their forests.

Thaddeus Sunseri uses the lens of forest history to explore some of the most profound transformations in Tanzania from the nineteenth century to the present. He explores anticolonial rebellions, the world wars, the depression, the Cold War, oil shocks, and nationalism through their intersections with and impacts on Tanzania's coastal forests and woodlands. In Wielding the Ax, forest history becomes a microcosm of the origins, nature, and demise of colonial rule in East Africa and of the first fitful decades of independence.

Wielding the Ax is a story of changing constellations of power over forests, beginning with African chiefs and forest spirits, both known as "ax–wielders," and ending with international conservation experts who wield scientific knowledge as a means to controlling forest access. The modern international concern over tropical deforestation cannot be understood without an awareness of the long–term history of these forest struggles.
Praise For Wielding the Ax: State Forestry and Social Conflict in Tanzania, 1820–2000 (Ecology & History)…
"This is a very well researched work on a topic of considerable contemporary importance in relation to forest utilisation and conservation. It is especially good on the wide range of historic uses of the coastal forests in particular, not just for material resources, but also for social and ritual purposes by local people."—Tanzanian Affairs

"Sunseri's history consistently argues that the loss of local environmental control helped push a substantial deforestation across the coastal landscape. He contends further that the assault on coastal peoples' rights to forest access continues. The overt authoritarianism and violence of former decades has yielded to a more benign intervention on the part of international conservation organizations…a new wrinkle on a historically familiar pattern…."—African Studies Review

"Tanzania enjoys a reputation as a place deeply concerned with preserving its beautiful landscapes and wildlife for global humanity to enjoy in perpetuity. This compact and masterful study (Wielding the Ax) traces the fraught environmental history that preceded this current era of 'eco-governmentality' in Tanzania."—African History

"(Wielding the Ax) illustrates the wide variety of demands placed on the forests with the not-so-surprising, but documented, conclusion that Tanzanian scientific forestry was neither rational nor efficient, but fell prey to the usual politica

"This exemplary book is worth reading far beyond the boundaries of Tanzania or the shores of Africa for several reasons. It takes the strong political ecology approach to writing environmental history in a way that is mercifully jargon free. It reveals the sequence of transformations from tribal society to imperialism and post-colonialism, and right through to present 'green neoliberalism' of international conservation. It rests on wide reading and thorough research…. Sunseri's book tells how Tanzania's forests have always been peopled. It is a perspective too easily ignored."—Environment and History

"Sensitive oral interviews and deft fieldwork support a markedly populist perspective on the impact of national and international decisions on resilient local residents…. Highly recommended."
— Choice

"Sunseri demonstrates how authority over the forest has shifted from nineteenth-century chiefs, known as 'ceremonial ax wielders,' to scientific forestry experts of the colonial state, and later to biodiversity advocates of the global NGO community…. Surprisingly, a forest history provides a new lens for interpreting the major events of Tanzanian colonial and postcolonial history."
— American Historical Review
Ohio University Press, 9780821418659, 304pp.
Publication Date: March 9, 2009
About the Author
Thaddeus Sunseri is a professor of African history at Colorado State University in Fort Collins. He is the author of Vilimani: Labor Migration and Rural Change in Early Colonial Tanzania.