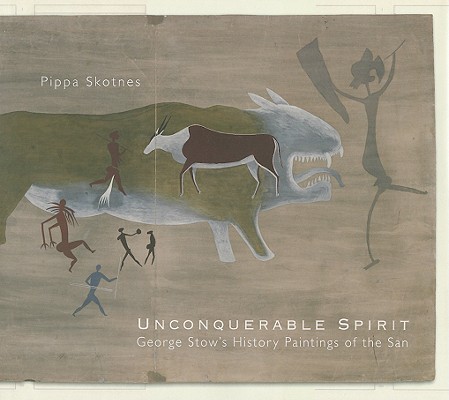 Unconquerable Spirit (Hardcover)
George Stow's History Paintings of the San
Ohio University Press, 9780821418697, 216pp.
Publication Date: January 13, 2009
* Individual store prices may vary.
Description
George Stow was a Victorian man of many parts—poet, historian, ethnographer, artist, cartographer, and prolific writer. A geologist by profession, he became acquainted, through his work in the field, with the extraordinary wealth of rock paintings in the caves and shelters of the South African interior. Enchanted and absorbed by them, Stow set out to create a record of this creative work of the people who had tracked and marked the South African landscape decades and centuries before him.

Unconquerable Spirit reveals the scope and the beauty of his labors. Stow's paintings are more than just copies of what he found on the rocks. They are interpretations of the art of the San, informed by his own understanding of a particularly turbulent time in South African history and his sense of the tragic demise of the San way of life. This book celebrates his pioneering achievement and reminds us, too, of the richness of the imaginative universe of the San. 
About the Author
Pippa Skotnes is professor of fine art and director of the Lucy Lloyd Archive, Resource and Exhibition Centre (LLAREC). She has published essays on the rock art of the San and is the author and editor of several books, including "Sound from the Thinking Strings, Miscast: Negotiating the Presence of the Bushmen, and Heaven's Things."
Praise For Unconquerable Spirit: George Stow's History Paintings of the San…
"The distinctive style of book design that Pippa Skotnes has developed to a fine art is a holistic mix of carefully selected old and new text that stimulates the reader to interact with rich seams of visual material in full-page spreads and marginal asides…. More than most books, the outstanding quality of the thoughtful design and beautiful reproduction of the documents creates a palpable sense of drama. When you reach the end you want to page through the pictures again and again."
— Azania: Archaeological Research in Africa
"(T)his book, along with Pippa Skotnes' Claim to the Country: The Archive of Lucy Lloyd and Wilhelm Bleek (2007) are seminal new works that provide true interdisciplinary insights into how individual artist/scientists can bring alive historical events, rituals, and everyday life of the San who are believed to be the earliest indigenous people of South Africa…. (Skotnes') reverence for methodical curatorial work and archival scholarship is evident on every page of this beautifully designed book."
— Journal of Archival Organization
or
Not Currently Available for Direct Purchase