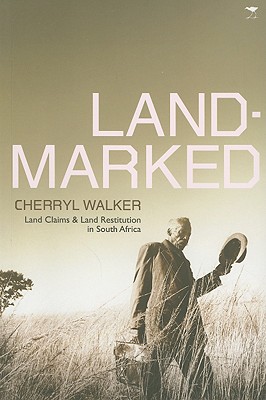 Landmarked (Paperback)
Land Claims and Land Restitution in South Africa
Ohio University Press, 9780821418703, 288pp.
Publication Date: September 28, 2008
* Individual store prices may vary.
Description
The year 2008 is the deadline set by President Mbeki for the finalization of all land claims by people who were dispossessed under the apartheid and previous white governments. Although most experts agree this is an impossible deadline, it does provide a significant political moment for reflection on the ANC government's program of land restitution since the end of apartheid.

Land reform (and land restitution within that) remains a highly charged issue in South Africa, one that deserves more in–depth analysis. Drawing on her experience as Rural Land Claims Commissioner in KwaZulu–Natal from 1995 to 2000, Professor Cherryl Walker provides a multilayered account of land reform in South Africa, one that covers general critical commentary, detailed case material, and personal narrative. She explores the master narrative of loss and restoration, which has been fundamental in shaping the restitution program; offers a critical overview of the achievements of the program as a whole; and discusses what she calls the "non–programmatic limits to land reform," including urbanization, environmental constraints and the impact of HIV/AIDS.
About the Author
Cherryl Walker is a professor and the head of the Department of Sociology and Social Anthropology at the University of Stellenbosch. She was the Regional Land Claims Commissioner in KwaZulu–Natal from 1995 to 2000. She is the author of Women and Resistance in South Africa.
Praise For Landmarked: Land Claims and Land Restitution in South Africa…
"Interested outsiders have often reflected on why South Africa's complex land reform programme failed to meet the high expectations of the early 1990s. Landmarked provides by far and away the most insightful explanation for this. It is a profound, subtle and nuanced study—and because of that might well irritate those, on both left and right, who prefer to remain in their blinkered comfort zones."—African Affairs
"(Landmarked) juxtaposes and interrelates the three elements and perspectives: emotive personal memories and indelible images of dispossession; a planner's account of the mechanisms and frustrations of restitution; and the evaluation of the record."—African Studies Review
"This is a highly readable and deeply reflective personal assessment.…Landmarked is most certainly not a dry, academic text and this reviewer would recommend this book to anyone who wants to approach the study of land restitution without any prior, detailed knowledge of South Africa's recent history or the politics and economics of loss and restoration of land."—Journal of Southern African History
"This well-written text vividly exposes the tragedy that was South African apartheid and so, too, the resilience of its victims. Summing Up: Highly recommended."—Choice
"An analytically solid but also deeply personal account of the process of land reform since 1994."—International Journal of African Historical Studies
"An analytically solid but also deeply personal account of the process of land reform since 1994."
— International Journal of African Historical Studies
or
Not Currently Available for Direct Purchase