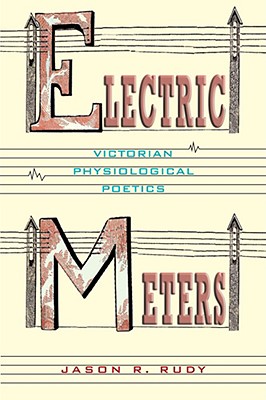 Electric Meters
Victorian Physiological Poetics
Hardcover

* Individual store prices may vary.
Description
Victorian poetry shocks with the physicality of its formal effects, linking the rhythms of the human body to the natural pulsation of the universe. In Electric Meters: Victorian Physiological Poetics Jason R. Rudy connects formal poetic innovations to developments in the electrical and physiological sciences, arguing that the electrical sciences and bodily poetics cannot be separated, and that they came together with special force in the years between the 1830s, which witnessed the invention of the electric telegraph, and the 1870s, when James Clerk Maxwell's electric field theory transformed the study of electrodynamics.

Combining formal poetic analysis with cultural history, Rudy traces the development of Victorian physiological poetics from the Romantic poetess tradition through to the works of Alfred Tennyson, the "Spasmodic" poets, Elizabeth Barrett Browning, Gerard Manley Hopkins, and Algernon Swinburne, among others. He demonstrates how poetic rhythm came increasingly to be understood throughout the nineteenth century as a physiological mechanism, as poets across class, sex, and national boundaries engaged intensely and in a variety of ways with the human body's subtle response to rhythmic patterns. Whether that opportunity for transcendence was interpersonal or spiritual in nature, nineteenth–century poets looked to electricity as a model for overcoming boundaries, for communicating across the gaps between sound and sense, between emotion and thought, and—perhaps—between individuals in the modern world.

Electric Meters will appeal to those interested in poetry of any period and particularly those interested in nineteenth–century culture and history.
Praise For Electric Meters: Victorian Physiological Poetics…
"Rudy's study opens our eyes to an undeniably significant development in English poetry that critics have largely ignored. This is a great achievement."
— Joseph Bristow, editor of The Cambridge Companion to Victorian Poetry

"Metre has often been thought of as linked to the body: Wordsworth's flow…adjusted to the pace of his 20-mile walks; the cadence of voice the music of a way of being. Jason Rudy's excellent study of Victorian verse adds to that picture by linking metre to the electrification of the body in scientific and popular thinking of the period."
— Victoriographies

"Rudy's treatment of the Spasmodics in chapter 3 is the pulse of the book and a significant contribution to the study of Victorian poetry.…Rudy's choice of materials provides a fascinating overview of the British poetic scene in the 1850s."
— Victorian Studies

"Electric Meters will appeal to a wide range of readers, not just those who have a predilection for scansion. Anyone teaching Victorian poetry should get a copy—it ought to be recommended to postgraduates interested in the subject. More work in this area would be a good thing, and Rudy's exemplary book could show a new generation of scholars forward."
— The British Society for Literature and Science

"(Rudy's) book is exciting, indeed electrifying, reading."
— Studies in English Literature 1500–1900

"Rudy has written a book that will reorient our attention towards the language of pulse and shock in the period, and will get us thinking about aesthetic and social consequences as we take the measure of Victorian poetry."
— Victorian Poetry

"Throughout Electric Meters, Rudy proves his mastery of poetic theory, literary history, Victorian and pre-Victorian scientific discourses, and his ability to communicate about a poem's formal and cultural valences. This is an important new book that should appeal to those who have been following the developments in "Neo-Formalist" poetics for the past ten years, but is equally valuable as a broad, well-researched, and carefully written introduction to Victorian poetry and poetic theory."
— New Books on Literature 19
Ohio University Press, 9780821418826, 232pp.
Publication Date: April 7, 2009
About the Author
Jason R. Rudy is an assistant professor of English at the University of Maryland, College Park.
or
Not Currently Available for Direct Purchase