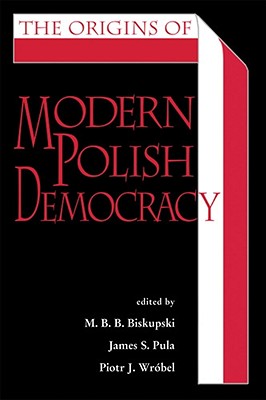 The Origins of Modern Polish Democracy (Polish and Polish American Studies) (Paperback)
Ohio University Press, 9780821418925, 368pp.
Publication Date: April 15, 2010
Other Editions of This Title:
Hardcover (4/15/2010)
* Individual store prices may vary.
Description
The Origins of Modern Polish Democracy is a series of closely integrated essays that traces the idea of democracy in Polish thought and practice. It begins with the transformative events of the mid-nineteenth century, which witnessed revolutionary developments in the socioeconomic and demographic structure of Poland, and continues through changes that marked the postcommunist era of free Poland.

The idea of democracy survived in Poland through long periods of foreign occupation, the trials of two world wars, and years of Communist subjugation. Whether in Poland itself or among exiles, Polish speculation about the creation of a liberal-democratic Poland has been central to modern Polish political thought. This volume is unique in that is traces the evolution of the idea of democracy, both during the periods when Poland was an independent country—1918-1939—and during the periods of foreign occupation before 1918 through World War II and the Communist era. For those periods when Poland was not free, the volume discusses how the idea of democracy evolved among exile and underground Polish circles.

This important work is the only single-volume English-language history of modern Polish democratic thought and parliamentary systems and represents the latest scholarly research by leading specialists from Europe and North America.
About the Author
M. B. B. Biskupski holds the Stanislaus A. Blejwas Endowed Chair in Polish and Polish American Studies at Central Connecticut State University. His book Polish-Jewish Relations in North American (coedited with Antony Polonsky) won the 2009 Oskar Halecki Prize of the Polish American Historical Association. His latest book is Hollywood's War with Poland.
James S. Pula is a professor of history at Purdue University North Central. He was twice awarded the Polish American Historical Association's prestigious Oskar Halecki Prize for outstanding books on Polonia as well as the Mieczyslaw Haiman Award for contributions to the study of Polonia. His books include For Liberty and Justice: A Biography of Brigadier General Wlodzimierz B. Krzyzanowski, 1824-1887, Thaddeus Kosciuszko: The Purest Son of Liberty, and Polish Americans: An Ethnic Community.
Piotr J. Wróbel holds the Konstanty Reynert Chair of Polish Studies at the University of Toronto. He has authored or coauthored about fifty scholarly articles and nine books, including The Historical Dictionary of Poland, 1945-1996 and Nation and History: Polish Historians from the Enlightenment and the Second World War, coedited with Peter Brock and John D. Stanley.
Praise For The Origins of Modern Polish Democracy (Polish and Polish American Studies)…
"This important book, to which many of the leading scholars of the subject have contributed, provides a clear and accessible account of the evolution of Polish democratic thought and of the aspirations of the Polish people for a democratic political system from the 1863 January Uprising to the present day. It fills a long-felt need in the scholarship on this topic."—Antony Polonsky, Albert Abramson Professor of Holocaust Studies, United States Holocaust Memorial Museum and Brandeis University
"(The Origins of Modern Polish Democracy) offers a valuable and informative overview of the history of Polish democratic ideas and can serve as supplementary reading for introductory undergraduate classes on Poland and eastern Europe."—Slavic Review
"The presentation of Polish democratic traditions and aspirations in this valuable study helps us understand not only the past but also the present. Following an insightful introduction, nine outstanding Polish, Canadian, and American historians concentrate on developments in the nineteenth and twentieth centuries. Their views, occasionally controversial, make for rewarding and stimulating reading. A most welcome addition to the field."—Piotr S. Wandycz, Bradford Durfee Professor of History Emeritus, Yale University
or
Not Currently Available for Direct Purchase