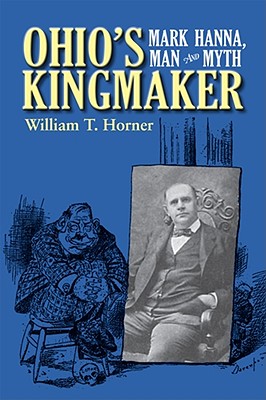 Ohio's Kingmaker
Mark Hanna, Man and Myth
Paperback

* Individual store prices may vary.
Other Editions of This Title:
Hardcover (3/16/2010)
Description
For a decade straddling the turn of the twentieth century, Mark Hanna was one of the most famous men in America. Portrayed as the puppet master controlling the weak-willed William McKinley, Hanna was loved by most Republicans and reviled by Democrats, in large part because of the way he was portrayed by the media of the day. Newspapers and other media outlets that supported McKinley reported positively about Hanna, but those sympathetic to William Jennings Bryan, the Democrats' presidential nominee in 1896 and 1900, attacked Hanna far more aggressively than they attacked McKinley himself. Their portrayal of Hanna was wrong, but powerful, and this negative image of him survives to this day.

In this study of Mark Hanna's career in presidential politics, William T. Horner demonstrates the flaws inherent in the way the news media cover politics. He deconstructs the myths that surround Hanna and demonstrates the dangerous and long-lasting effect that inaccurate reporting can have on our understanding of politics. When Karl Rove emerged as the political adviser to George W. Bush's presidential campaigns, reporters quickly began to compare Rove to Hanna even a century after Hanna's death. The two men played vastly different roles for the presidents they served, but modern reporters consistently described Rove as the second coming of Mark Hanna, another political Svengali.

Ohio's Kingmaker is a compelling story about a fascinating character in American politics and serves to remind us of the power of (mis)perceptions.
Praise For Ohio's Kingmaker: Mark Hanna, Man and Myth…
"Ohio's Kingmaker is a well-written and engaging book, and the central theme—comparing the nearly unknown Hanna to the very familiar Rove—makes for an effective hook. Scholars will be deconstructing and critiquing the Bush presidency for years to come; the author has made a valuable contribution to understanding an important facet of both the Bush presidency and its century-old precursor."
— David A. Crockett, Trinity University
"A must-read for anyone interested in Gilded Age politics: this myth-busting book sets the record straight with sharp, well-researched prose. Horner shows how Democratic cartoonists attacked McKinley by depicting Hanna as master and McKinley as puppet, obscuring McKinley's political skills and ignoring Hanna's honorable public service."
— Karl Rove, former senior adviser and deputy chief of staff to President George W. Bush and author of Courage and Consequence
"Horner's biography of Hanna is unquestionably the most thorough analysis to date. It is fresh, balanced, and the author's reliance on personal papers, memoirs, newspapers, and mounds of secondary literature makes for a compelling argument and a fine study of Gilded Age politics."
— West Virginia History: A Journal of Regional Studies
"William Horner tells this...story in detail, with some shrewd insights into American politics. The book will appeal to students of the period, politics, and biography. It should end the stereotypes of the people involved."
— The Historian
"In writing the first modern biography of Mark Hanna, Professor Horner has provided historians of Gilded Age politics with a useful survey that complements the earlier work of H. Wayne Morgan and Lewis L. Gould. In his comparison of Hanna and Karl Rove, the author suggests that modern journalists should study their history more carefully."
— Northwest Ohio History
"Horner…successfully strives to provide a more balanced portrait of the man. Hanna was wealthy, and he saw nothing wrong with using his wealth and the wealth of others who agreed with Republican policies to support McKinley. However, he was no ravenous capitalist in his business practices, and he generally took a moderate approach in dealings with organized labor. Horner illustrates how a concentrated campaign by segments of the media, even a century ago, can create a distorted impression which, for many, is easily mistaken for reality."
— Booklist
Ohio University Press, 9780821418949, 360pp.
Publication Date: March 16, 2010
About the Author
William T. Horner is a professor and the director of undergraduate studies in the Department of Political Science at the University of Missouri. He is the author of Showdown in the Show-Me State: The Fight over Conceal-and-Carry Gun Laws in Missouri.