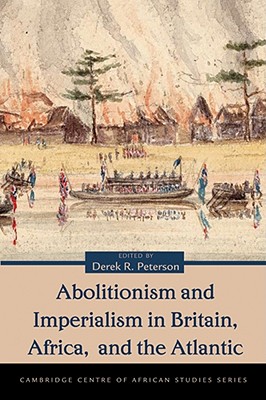 Abolitionism and Imperialism in Britain, Africa, and the Atlantic (Cambridge Centre of African Studies) (Paperback)
Ohio University Press, 9780821419021, 248pp.
Publication Date: January 5, 2010
Other Editions of This Title:
Hardcover (1/5/2010)
* Individual store prices may vary.
Description
The abolition of the slave trade is normally understood to be the singular achievement of eighteenth-century British liberalism. Abolitionism and Imperialism in Britain, Africa, and the Atlantic expands both the temporal and the geographic framework in which the history of abolitionism is conceived. Abolitionism was a theater in which a variety of actors—slaves, African rulers, Caribbean planters, working-class radicals, British evangelicals, African political entrepreneurs—played a part. The Atlantic was an echo chamber, in which abolitionist symbols, ideas, and evidence were generated from a variety of vantage points. These essays highlight the range of political and moral projects in which the advocates of abolitionism were engaged, and in so doing it joins together geographies that are normally studied in isolation.

Where empires are often understood to involve the government of one people over another, Abolitionism and Imperialism shows that British values were formed, debated, and remade in the space of empire. Africans were not simply objects of British liberals' benevolence. They played an active role in shaping, and extending, the values that Britain now regards as part of its national character. This book is therefore a contribution to the larger scholarship about the nature of modern empires.

Contributors: Christopher Leslie Brown, Seymour Drescher, Jonathon Glassman, Boyd Hilton, Robin Law, Phillip D. Morgan, Derek R. Peterson, John K. Thornton
About the Author
Derek R. Peterson is a senior lecturer in African history and director of the Centre of African Studies at the University of Michigan. He is the author of Creative Writing: Translation, Bookkeeping, and the Work of Imagination in Colonial Kenya, and editor of The Invention of Religion: Rethinking Belief in Politics and History.
Praise For Abolitionism and Imperialism in Britain, Africa, and the Atlantic (Cambridge Centre of African Studies)…
"Derek Peterson has succeeded in putting together a first-rate collection that extends our understanding of the global reach and influence of British abolitionism. Original and innovative, it offers a range of insights, not least about the legacy of abolitionism, that will have a major impact on future research in this area, while at the same time reshaping what has become known as the 'new Atlantic history.'"—Journal of British Studies
"This is a strong collection of some of the best scholars in the field playing variations on the theme of abolition, slavery, and empire. The research and writing are of the highest quality, contributing to ongoing historiographical debates, and the book as a whole provides a strong synthesis of the current abolition literature for students."—Victorian Studies
"This is an important collection, ambitious in its geographical and temporal sweep, meticulous in its attention to the specific, and providing a reassessment of both the campaign to end the British slave trade and the degree to which that campaign fashioned British imperial life and policy for decades after."—The Journal of Imperial and Commonwealth History
"Both the introduction and the final essay by Glassman are fitting bookends to a volume that will serve as an excellent classroom text. They both summarize the existing literature while offering new insights into the legacy of abolitionist rhetoric more than a century after it was successfully deployed to help end the slave trade."—African Studies Review
"Drawing together impressive contributions by established scholars, the essays reframe the study of African actors in African slavery and Britain's imperialist agenda couched in the language of abolition…. The virtue of such a collection is two-fold and can easily be incorporated into either an introductory course or an advanced course in the field."—International Journal of African Historical Studies
"Drawing together impressive contributions by established scholars, the essays reframe the study of African actors in African slavery and Britain's imperialist agenda couched in the language of abolition…. The virtue of such a collection is two-fold and can easily be incorporated into either an introductory course or an advanced course in the field."
— International Journal of African Historical Studies
"This volume certainly sets a high standard for future publications to follow…. Abolitionism and Imperialism can be recommended without reservation both for the general reader and every educational level from sixth former upwards."
— African Research & Documentation
"Every essay is engaging and erudite…."
— Labour, Capital and Society