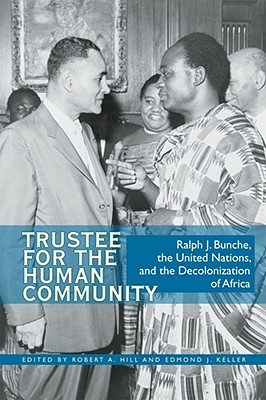 Trustee for the Human Community (Paperback)
Ralph J. Bunche, the United Nations, and the Decolonization of Africa
Ohio University Press, 9780821419106, 264pp.
Publication Date: August 24, 2010
Other Editions of This Title:
Hardcover (8/24/2010)
* Individual store prices may vary.
Description
Ralph J. Bunche (1904–1971), winner of the Nobel Peace Prize in 1950, was a key U.S. diplomat in the planning and creation of the United Nations in 1945. In 1947 he was invited to join the permanent UN Secretariat as director of the new Trusteeship Department. In this position, Bunche played a key role in setting up the trusteeship system that provided important impetus for postwar decolonization ending European control of Africa as well as an international framework for the oversight of the decolonization process after the Second World War.

Trustee for the Human Community is the first volume to examine the totality of Bunche's unrivalled role in the struggle for African independence both as a key intellectual and an international diplomat and to illuminate it from the broader African American perspective.

These commissioned essays examine the full range of Ralph Bunche's involvement in Africa. The scholars explore sensitive political issues, such as Bunche's role in the Congo and his views on the struggle in South Africa. Trustee for the Human Community stands as a monument to the profoundly important role of one of the greatest Americans in one of the greatest political movements in the history of the twentieth century. Contributors: David Anthony, Ralph A. Austen, Abena P. A. Busia, Neta C. Crawford, Robert R. Edgar, Charles P. Henry, Robert A. Hill, Edmond J. Keller, Martin Kilson, Georges Nzongola-Ntalaja, Jon Olver, Pearl T. Robinson, Elliott P. Skinner, Crawford Young
About the Author
Robert A. Hill ois professor of history at the University of California, Los Angeles, and editor in chief of The Marcus Garvey & Universal Negro Improvement Association Papers Project in the James S. Coleman African Studies Center.
Edmond J. Keller
is chair and professor of political science at the University of California, Los Angeles, and director of the Globalization Research Center–Africa. He is the author of two monographs, including Revolutionary Ethiopia: From Empire to People's Republic, and coeditor of six volumes on African politics and public policy.
Praise For Trustee for the Human Community: Ralph J. Bunche, the United Nations, and the Decolonization of Africa…
"The essays collectively situate Bunche as a pioneering scholar of Africa, a tireless advocate of self-determination, and an engaged and determined peace-seeker…. Ralph Bunche was a man of real insight and personal courage, whose analysis of how international oversight can assist disadvantaged peoples achieve real self-determination is still applicable today in countries struggling with political power vacuums and economic hopelessness."
— H-Human Rights
"…a timely and noteworthy tribute in recognition of an outstanding Afro-American with an exceptional career, who notably contributed as much to the state of the art of African Studies in the U.S. as he did to the transition to independence on the African continent…."
— Africa Spectrum