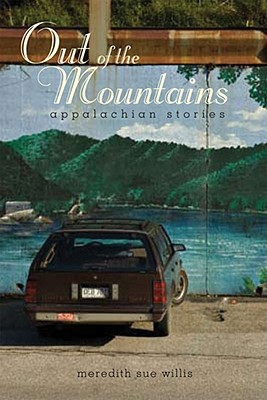 Out of the Mountains (Paperback)
Appalachian Stories (Race, Ethnicity and Gender in Appalachia)
Ohio University Press, 9780821419205, 180pp.
Publication Date: July 13, 2010
* Individual store prices may vary.
Description
Meredith Sue Willis's Out of the Mountains is a collection of thirteen short stories set in contemporary Appalachia. Firmly grounded in place, the stories voyage out into the conflicting cultural identities that native Appalachians experience as they balance mainstream and mountain identities.

Willis's stories explore the complex negotiations between longtime natives of the region and its newcomers and the rifts that develop within families over current issues such as mountaintop removal and homophobia. Always, however, the situations depicted in these stories are explored in the service of a deeper understanding of the people involved, and of the place. This is not the mythic version of Appalachia, but the Appalachia of the twenty-first century.
About the Author
Meredith Sue Willis is the author of more than fifteen books, including novels for adults, novels for children, collections of short stories, nonfiction about the art of writing and her most recent "Ten Strategies to Write Your Novel." She teaches novel writing at New York University s School of Continuing and Professional Studies."
Praise For Out of the Mountains: Appalachian Stories (Race, Ethnicity and Gender in Appalachia)…
"Appalachian stories need not feature 'a granny woman' and be set in the past. Out of the Mountains: Appalachian Stories by West Virginia native Meredith Sue Willis is a collection to prove the point. It's (twelve) stories are set in the milieu of the 21st century and explore current issues familiar not to just Appalachians but to contemporary readers everywhere. Her timely stories ring true and are often humorous.… She is one of the true voices of Appalachia in print today."—West Virginia Book Festival: The Blog
"(Willis's) characters possess a conversational familiarity, and the reader feels absorbed into the small community that is both distinctly Appalachian and markedly universal. This finely crafted collection is worth reading twice to discover all its intricacies and connections."—Booklist
"I love this collection because it is not just about the rich, full heritage of the Appalachian past, but about how contemporary people from the mountains deal with moving out or moving on.… The stories from Out of the Mountainsmake me wish I knew these people; I probably do."—Roberta Schultz, "Around Cincinnati," WVXU
"Character-driven and contemporary, the stories mirror situations we know.… As a writer (Willis) uses the imagination of her heart to explore her cultural heritage from many vantage points."—Now and Then: The Appalachian Magazine
"Pick up this book and read it a story at a time. Meet Willis' people and understand the issues they face. You won't be the same after you do."—The Advocate (Baton Rouge)
"Pick up this book and read it a story at a time. Meet Willis' people and understand the issues they face. You won't be the same after you do."
— The Advocate (Baton Rouge)
"In Out of the Mountains, Meredith Sue Willis gives her characters the juice of life. Some turn up in more than one story, prompting the pleasure of recognition. Willis writes about people from Appalachia's West Virginia corner, where she herself comes from, and about people from New York, where she lives now, with a smattering of folks from elsewhere. They're all alive on the page.…Grade: A-"
— CityBeat (Cincinnati)
"What does connect the stories is a sense of displacement and restlessness—insiders who leave the mountains to live elsewhere and outsiders who come to the mountains. There's a tension between belonging and not belonging, of insider vs. outsider, of rural vs. urban, of traditional customs vs. new ways."
— In This Light blog
or
Not Currently Available for Direct Purchase