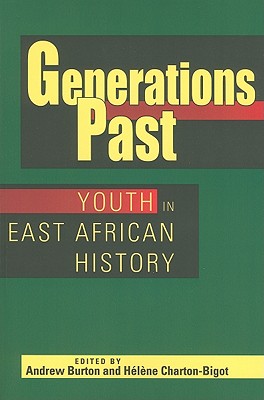 Generations Past (Paperback)
Youth in East African History
Ohio University Press, 9780821419243, 312pp.
Publication Date: September 15, 2010
Other Editions of This Title:
Hardcover (9/15/2010)
* Individual store prices may vary.
Description
Contemporary Africa is demographically characterized above all else by its youthfulness. In East Africa the median age of the population is now a striking 17.5 years, and more than 65 percent of the population is age 24 or under. This situation has attracted growing scholarly attention, resulting in an important and rapidly expanding literature on the position of youth in African societies.

While the scholarship examining the contemporary role of youth in African societies is rich and growing, the historical dimension has been largely neglected in the literature thus far. Generations Past seeks to address this gap through a wide-ranging selection of essays that covers an array of youth-related themes in historical perspective. Thirteen chapters explore the historical dimensions of youth in nineteenth-, twentieth-, and twenty-first–century Ugandan, Tanzanian, and Kenyan societies. Key themes running through the book include the analytical utility of youth as a social category; intergenerational relations and the passage of time; youth as a social and political problem; sex and gender roles among East African youth; and youth as historical agents of change. The strong list of contributors includes prominent scholars of the region, and the collection encompasses a good geographical spread of all three East African countries.
About the Author
Andrew Burton is an honorary research asso­ciate of the British Institute in Eastern Africa, currently based in Addis Ababa. His publications include African Underclass: Urbanisation, Crime & Colonial Order in Dar es Salaam and the coedited volume Dar es Salaam: Histories from an Emerging African Metropolis.
Hélène Charton-Bigot is a CNRS researcher at the CEAN (Centre d'étude d'Afrique noire) at the University of Bordeaux. She coedited Nairobi contemporain, les paradoxes d'une ville fragmentée, with D. Rodriguez-Torres.
Praise For Generations Past: Youth in East African History…
"This is a rich collection of essays about the concepts of generations and youth in East Africa from the nineteenth century until the present. The chronological reach, the originality of the sources, the clarity of presentation and excellent writing all make it an attractive college text."—Lidwien Kapteijns, Kendall/Hodder Professor of History at Wellesley College
"This thought-provoking anthology addresses some of the existing gaps in our understanding of the study of youth and generations in Africa…. Overall, this book is a welcome contribution to this emerging sub-field of African history. Its accessible language makes it a valuable resource fit for adoption at different levels in the teaching of African history."—The Journal of Colonialism and Colonial History
"Generations Past constitutes a thoughtful and sophisticated snapshot of a thriving subfield that will inform work on youth across the continent."—The Journal of African History