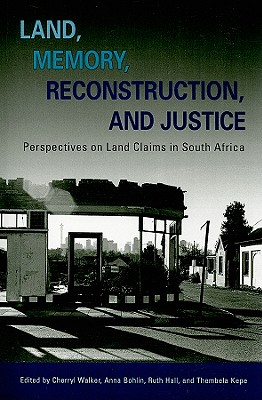 Land, Memory, Reconstruction, and Justice (Paperback)
Perspectives on Land Claims in South Africa
Ohio University Press, 9780821419274, 352pp.
Publication Date: June 5, 2010
* Individual store prices may vary.
Description
Land is a significant and controversial topic in South Africa. Addressing the land claims of those dispossessed in the past has proved to be a demanding, multidimensional process. In many respects the land restitution program that was launched as part of the county's transition to democracy in 1994 has failed to meet expectations, with ordinary citizens, policymakers, and analysts questioning not only its progress but also its outcomes and parameters.

Land, Memory, Reconstruction, and Justice brings together a wealth of topical material and case studies by leading experts in the field who present a rich mix of perspectives from politics, sociology, geography, social anthropology, law, history, and agricultural economics. The collection addresses both the material and the symbolic dimensions of land claims, in rural and urban contexts, and explores the complex intersection of issues confronting the restitution program, from the promotion of livelihoods to questions of rights, identity, and transitional justice.

A valuable contribution to the field of land and agrarian studies, both in South Africa and internationally, it is undoubtedly the most comprehensive treatment to date of South Africa's postapartheid land claims process and will be essential reading for scholars and students of land reform for years to come.
About the Author
Cherryl Walker is a professor and the head of the Department of Sociology and Social Anthropology at the University of Stellenbosch. She was the Regional Land Claims Commissioner in KwaZulu–Natal from 1995 to 2000. She is the author of Women and Resistance in South Africa.
Anna Bohlin is a researcher in social anthropology at the Centre for Public Sector Research at the University of Gothenburg, Sweden.
Ruth Hall is a senior researcher at the Institute for Poverty, Land and Agrarian Studies (PLAAS) at the University of the Western Cape, South Africa.
Thembela Kepe is an assistant professor of geography and international development studies at the University of Toronto, Canada.
Praise For Land, Memory, Reconstruction, and Justice: Perspectives on Land Claims in South Africa…
"An outstanding and timely collection, Land, Memory, Reconstruction, and Justice is the most comprehensive treatment of land restitution in South Africa. It brings together a wealth of thematic and case study material from across the country and provides a rounded view of the multiple meanings of land restitution in postapartheid South Africa."—Ben Cousins, Institute for Poverty, Land and Agrarian Studies (PLAAS), University of the Western Cape
"The case studies point to how a sense of community has been forged or fractured, or both, by making claims, living with the consequences of settlement agreements, and government involvement after restitution."—International Journal of African Historical Studies
"Written and edited by some of the leading scholars and activists on the land question in South Africa, this book is set to make an important and welcome contribution."—Lungisile Ntsebeza, University of Cape Town