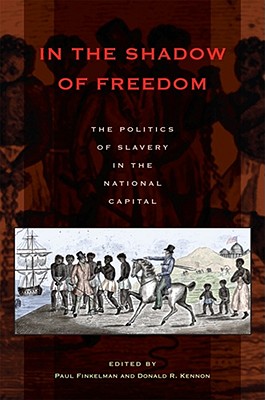 In the Shadow of Freedom (Hardcover)
The Politics of Slavery in the National Capital (Perspective Hist of Congress 1801-1877)
Ohio University Press, 9780821419342, 272pp.
Publication Date: June 13, 2011
* Individual store prices may vary.
Description
Few images of early America were more striking, and jarring, than that of slaves in the capital city of the world's most important free republic. Black slaves served and sustained the legislators, bureaucrats, jurists, cabinet officials, military leaders, and even the presidents who lived and worked there. While slaves quietly kept the nation's capital running smoothly, lawmakers debated the place of slavery in the nation, the status of slavery in the territories newly acquired from Mexico, and even the legality of the slave trade in itself.

This volume, with essays by some of the most distinguished historians in the nation, explores the twin issues of how slavery made life possible in the District of Columbia and how lawmakers in the district regulated slavery in the nation.

Contributors: David Brion Davis, Mary Beth Corrigan, A. Glenn Crothers, Jonathan Earle, Stanley Harrold, Mitch Kachun, Mary K. Ricks, James B. Stewart, Susan Zaeske, David Zarefsky
About the Author
Paul Finkelman is an expert on constitutional history, the law of slavery, and the American Civil War. He coedits the Ohio University Press series New Approaches to Midwestern Studies and is the president of Gratz College.
Praise For In the Shadow of Freedom: The Politics of Slavery in the National Capital (Perspective Hist of Congress 1801-1877)…
"These articles succeed admirably in emphasizing the irony of slavery's centrality in what Finkelman terms 'the seat of power of the world's most prominent democratic republic.'"—Journal of American History
"This essay collection does a nice job of keeping its focus, and all of the essays work well together. It offers a comprehensive understanding of just why it matters that the capital of the United States was a slave city. It also includes a diversity of perspectives—from the political to the social—and clearly shows exactly how slavery cast a shadow over all regions of the nation and all Americans."—H-CivWar