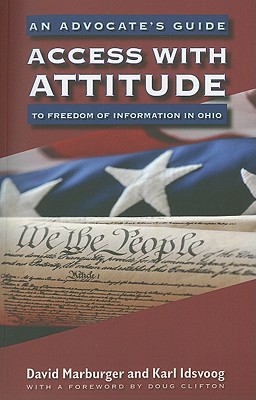 Access with Attitude (Paperback)
An Advocate's Guide to Freedom of Information in Ohio
Ohio University Press, 9780821419397, 176pp.
Publication Date: March 6, 2011
* Individual store prices may vary.
Description
For those who find themselves in a battle for public records, Access with Attitude: An Advocate's Guide to Freedom of Information in Ohio is an indispensable weapon. First Amendment lawyer David Marburger and investigative journalist Karl Idsvoog have written a simply worded, practical guide on how to take full advantage of Ohio's so-called Sunshine Laws.

Journalists, law firms, labor unions, private investigators, genealogists, realty companies, banks, insurers—anyone who regularly needs access to publicly held information—will find this comprehensive and contentious guide to be invaluable. Marburger, who drafted many of the provisions that Ohio adopted in its open records law, and coauthor Idsvoog have been fighting for broader access to public records their entire careers. They offer field-tested tips on how to avoid "no," and advise readers on legal strategies if their requests for information go unmet. Step by step, they show how to avoid delays and make the law work.

Whether you're a citizen, a nonprofit organization, a journalist, or an attorney going after public records, Access with Attitude is an essential resource.
About the Author
David Marburger specializes in First Amendment, libel, and media law. He received his JD from the University of Pittsburgh and his BS from Syracuse University. Mr. Marburger drafted and conceived many of the provisions that the Ohio legislature adopted in Ohio's Public Records Act.
Karl Idsvoog is an associate professor of journalism at Kent State University. He is an award-winning investigative reporter and producer and conducts training for media development for the U.S. Department of State, IREX, Internews, the International Center for Journalists, and Radio Free Asia.
Praise For Access with Attitude: An Advocate's Guide to Freedom of Information in Ohio…
"During my eight years as editor of Cleveland's Plain Dealer, I speed-dialed Marburger's phone number whenever an access problem loomed. Access with Attitude isn't quite that, but it's the next best thing. It belongs on every bookshelf in Ohio."—Doug Clifton, former editor, Plain Dealer
"Access with Attitude is a practical and insightful guide for dealing with an issue that vexes journalists across the state: how to hold governments accountable. Marburger and Idsvoog have created a useful reference for those forced to play an increasingly costly and time-consuming game of hide-and-seek with the public's information."—David Giles, attorney, The E. W. Scripps Company
"Access with Attitude is not just a road map. It's more like a GPS, with pinpoint directions on the best way to get the records you need…and why you should not take 'no' for an answer."—Jeff Hirsch, WKRC-TV, Cincinnati
"Access with Attitude is a long-needed book that goes a long way toward leveling the playing field between governed and government. This valuable resource should find a home on the bookshelf—or e-reader—of journalists, public officials, lawyers who represent government clients and anyone with an interest in transparency."—Randy Ludlow, reporter, The Columbus Dispatch
"Every Ohioan who cares about government and the public's right to know should read this book."—Brent Larkin
"Access with Attitude is a long-needed book that goes a long way toward leveling the playing field between governed and government. This valuable resource should find a home on the bookshelf—or e-reader—of journalists, public officials, lawyers who represent government clients and anyone with an interest in transparency."
— Randy Ludlow, reporter, The Columbus Dispatch
"Every Ohioan who cares about government and the public's right to know should read this book."
— Brent Larkin