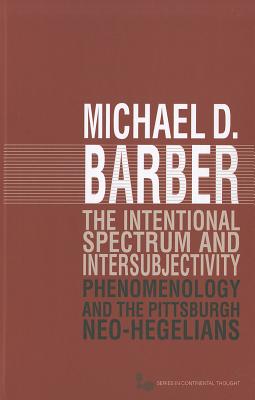 The Intentional Spectrum and Intersubjectivity
Phenomenology and the Pittsburgh Neo-Hegelians (Series In Continental Thought #39)
Hardcover

* Individual store prices may vary.
Description
World-renowned analytic philosophers John McDowell and Robert Brandom, dubbed "Pittsburgh Neo-Hegelians," recently engaged in an intriguing debate about perception. In The Intentional Spectrum and Intersubjectivity Michael D. Barber is the first to bring phenomenology to bear not just on the perspectives of McDowell or Brandom alone, but on their intersection. He argues that McDowell accounts better for the intelligibility of empirical content by defending holistically functioning, reflectively distinguishable sensory and intellectual intentional structures. He reconstructs dimensions implicit in the perception debate, favoring Brandom on knowledge's intersubjective features that converge with the ethical characteristics of intersubjectivity Emmanuel Levinas illuminates.
Phenomenology becomes the third partner in this debate between two analytic philosophers, critically mediating their discussion by unfolding the systematic interconnectionamong perception, intersubjectivity, metaphilosophy, and ethics.
Praise For The Intentional Spectrum and Intersubjectivity: Phenomenology and the Pittsburgh Neo-Hegelians (Series In Continental Thought #39)…
"Michael Barber's The Intentional Spectrum and Intersubjectivity: Phenomenology and the Pittsburgh Neo-Hegelians carefully and thoroughly analyzes for the first time ways in which Brandom's and McDowell's thinking, particularly about perception, can be illuminated by phenomenological thought, particularly that of Husserl and Levinas. Animpressive scholarly accomplishment and a solid contribution to contemporary phenomenological analysis."—James Swindal, author of Reflection Revisited: Jürgen Habermas's Discursive Theory of Truth
Ohio University Press, 9780821419618, 368pp.
Publication Date: May 18, 2011
About the Author
Michael D. Barber is dean of the College of Arts and Sciences and professor of philosophy at St. Louis University. He is the author of several books on the phenomenology of the social world, his most recent being The Participating Citizen: A Biography of Alfred Schutz.