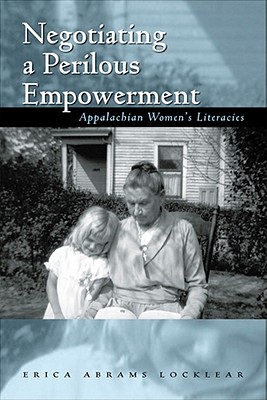 Negotiating a Perilous Empowerment (Hardcover)
Appalachian Women's Literacies (Race, Ethnicity and Gender in Appalachia)
Ohio University Press, 9780821419656, 272pp.
Publication Date: November 19, 2011
Other Editions of This Title:
Paperback (11/19/2011)
* Individual store prices may vary.
Description
In many parts of Appalachia, family ties run deep, constituting an important part of an individual's sense of self. In some cases, when Appalachian learners seek new forms of knowledge, those family ties can be challenged by the accusation that they have gotten above their raisings, a charge that can have a lasting impact on family and community acceptance. Those who advocate literacy sometimes ignore an important fact — although empowering, newly acquired literacies can create identity conflicts for learners, especially Appalachian women. In Negotiating a Perilous Empowerment, Erica Abrams Locklear explores these literacy-initiated conflicts, analyzing how authors from the region portray them in their fiction and creative nonfiction.

Abrams Locklear blends literacy studies with literary criticism to analyze the central female characters in the works of Harriette Simpson Arnow, Linda Scott DeRosier, Denise Giardina, and Lee Smith. She shows how these authors deftly overturn stereotypes of an illiterate Appalachia by creating highly literate characters, women who not only cherish the power of words but also push the boundaries of what literacy means.

Negotiating a Perilous Empowerment includes in-depth interviews with Linda Scott DeRosier and Lee Smith, making this an insightful study of an important literary genre.
About the Author
Erica Abrams Locklear is professor of English at the University of North Carolina at Asheville. She has published articles in the Southern Literary Journal, Crossroads: A Southern Culture Annual, Community Literacy Journal, and the North Carolina Folklore Journal.
Praise For Negotiating a Perilous Empowerment: Appalachian Women's Literacies (Race, Ethnicity and Gender in Appalachia)…
"Abrams Locklear honors the complexity of Appalachian identity by presenting a comprehensive and suitably multi-dimensional look at what it means to be a literate Appalachian woman…."—Studies in American Culture
"An important and revealing portrayal of Appalachian women that works to challenge stereotypes, (Negotiating a Perilous Empowerment) raises questions about the difficulties of negotiating multiple literacies."—Journal of American Culture
"Informed by literacy theory, Locklear's analysis is further enhanced by her interviews with DeRosier and Smith, which she includes in this volume. This is a thoughtful contribution to Ohio University Press's 'Series in Race, Ethnicity, and Gender in Appalachia.''—Choice: Current Reviews for Academic Libraries
"Negotiating a Perilous Empowerment is the best study we have to date of the ways in which becoming literate is always a way of becoming a new kind of person. In the process, there is always gain and loss. As people change who they are, they come to see who they were differently. This dilemma is general, but is rendered moving, visible, and real in this striking book."—James Paul Gee, Mary Lou Fulton Presidential Professor of Literacy Studies
"In Negotiating a Perilous Empowerment, Erica Abrams Locklear carefully explores what happens when a modern, monolithic, metropolitan literacy is imposed upon residents of the Appalachian South. With great insight, she shows that such literacy, offered as a gift to presumed illiterates, in fact threatens lettered ways of knowing and being that are well adapted to the region's traditional social arrangements. Understanding in particular how women writers respond to this threat—which for them is also sometimes an opportunity—adds much to what we know about the complex legacies of literacy."—Peter Mortensen, University of Illinois at Urbana-Champaign
"From many perspectives, Erica Abrams Locklear explores the cultural, social, and psychological complexities of literacy with clarity and compassion: an absorbing and enlightening study."
— Lee Smith