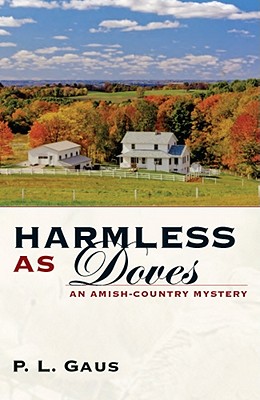 Harmless as Doves (Hardcover)
An Amish–Country Mystery (Amish Country Mysteries)
Ohio University Press, 9780821419670, 184pp.
Publication Date: May 22, 2011
Other Editions of This Title:
Compact Disc (6/1/2012)
Paperback (6/26/2012)
Hardcover, Large Print (9/26/2012)
* Individual store prices may vary.
Description
As he goes about his milking chores on a cold October morning, Bishop Leon Shetler daydreams of escaping the Ohio winter and taking a bus to the Pinecraft Amish community in Florida for a vacation. His reverie is suddenly interrupted when young Crist Burkholder enters the barn, head down, hat in hand, to make a confession. "I just killed Glenn Spiegle."
"An Amish murderer?" Sheriff Robertson asks when he arrives on the scene. "Who will believe that?" But Burkholder is adamant about his guilt, fueled by the passion of his love for Vesta Miller, the young woman both he and Spiegle so desperately wanted to marry.
No sooner does the sheriff start his investigation than he learns of two more murders in the Pinecraft community, and a startling connection is made. There's no way around it — Professor Mike Branden will have to put his research trip on hold and, along with detective Ricky Niell, travel south to investigate. There they discover the disturbing truth about Spiegle's conversion to the Amish faith and the reason for the long–smoldering hatred that has reached into the secluded pastoral valleys of Holmes County.
In Harmless as Doves, P. L. Gaus takes the action to Florida in one of the most exciting mysteries in this series. This is Gaus at his best.
About the Author
P. L. Gaus is the author of seven books in the Amish-Country Mystery series. He lives in Wooster, Ohio, an area that is close to the world's largest settlement of Amish and Mennonite people. Gaus lectures widely about the lifestyles, culture, and religion of the Amish.

Visit his website at P. L. Gaus




Praise For Harmless as Doves: An Amish–Country Mystery (Amish Country Mysteries)…
"Paul Gaus: Tony Hillerman of the Amish."—Christian Science Monitor
"A sensitive account of the impact on this community [the Amish of Holmes County, Ohio] when outsiders (that is, the cops) descend to deal with an Amish youth who has confessed to the murder of his fiancée's older, richer and very persistent admirer."—The New York Times Book Review
"Gaus spins a fine mystery with a strong background of Amish faith and plenty of detail on the difficulties the Amish face in the modern age."—Booklist
"Can the professor and pastor come to the rescue of their friends, the Amish, and help unravel this mystery and save an Amish man from a hard life in prison for a crime he couldn't possibly have committed? Will Vesta and Crist finally be able to be together as they want and have a happy life together? You will be hanging on until the last page to find out…. I really love this series."—Night Owl Reviews
"Wise and foolish, timid and courageous, warm and human, each of Gaus's characters is true to his or her distinct background, but escapes the limitations of religious and ethnic stereotypes…. Harmless as Doves is a gentle, intriguing story, sometimes funny, often sad, and always loving. I enjoyed it all the way to the end."—...what reenie reads blog
or
Not Currently Available for Direct Purchase