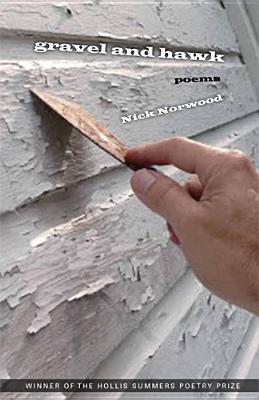 Gravel and Hawk
Poems (Hollis Summers Poetry Prize)
Paperback

* Individual store prices may vary.
Description
Winner of the Hollis Summer Poetry Prize

Gravel and Hawk dwells on the physical and cultural landscapes of the Texarkana border region, an area of stark natural beauty and even starker manifestations of its human habitation: oil derricks and pump jacks, logging trucks, chicken houses, come-to-Jesus billboards, and greasy catfish joints, a patchwork of dying farm towns and ragtag municipalities laced together by county roads, state highways, and that treacherous, rust-hued slurry known as the Red River. Gravel and Hawk charts the emotional landscape of a single extended family, its history of loss and gain, and, especially, its encounters with violent death. It is an eminently readable collection, rooted in a distinctly American place and united by a poetic voice that is honest, sophisticated, and persuasive.
Praise For Gravel and Hawk: Poems (Hollis Summers Poetry Prize)…
"Gravel and Hawk is an elegiac book —explicitly so in the poems honoring relatives and friends who have died, and implicitly so in many other poems that recreate the daily textures of a farm centered life. as a whole this book delivers a rich sense of a past deeply examined."
—Mark Halliday, judge
"Gravel and Hawk reads like a superb family album of photographs and videos of memories and dreams. There is a James Agee-like sharpness and alertness of observation in the images of tractors, cattle, Victrolas, boats, ancestors, awakening love. Norwood captures the fleeting insights of adolescence, the humiliations and victories of childhood, and inklings of mortality, in portraits achingly vivid, in riffs spare and honest, bringing the past alive in a fresh idiom."  
—Robert Morgan, author of Terroir and Gap Creek
"In his new book, Norwood writes vividly and with concrete, true detail about lives forged here in East Texas."
—Texarkana Gazette
"Nick Norwood's newest collection is both beautifully restrained and intensely local. With impeccable craftsmanship, he delineates a farm, a family, neighbors: a place and a time. Yet something else is going on: the particulars of the poems gather a subterranean strength and by book's end we are shocked to realize how attached we have become to another's memories, how those memories have taken up residence in our own minds. This is the marvel of poetry, and Norwood achieves it with grace and intelligence."
— Kelly Cherry, author of The Retreats of Thought: Poems
"Even if you never cared for rural, or you grew up in a city, (Gravel and Hawk) will change you. The natural world lives within this poet in disciplined poems of comfortable silence bracketing culture cells of country life. There is substantiability in these reflections. The subjects are rudimentary; the emotions are gravitational fields of honesty."
—
Washington Independent Review of Books
"Nick Norwood's Gravel and Hawk, his fourth collection of poetry and winner of the Hollis Summers poetry prize, has struck me with its commanding voice. The speaker of these poems has a wonderful way with imagery that provides a strong sense of the rural Texas where his speaker grew up (along with a few ventures into neighboring states)."
—
storySouth
"Gravel and Hawk is a sophisticated mapping of personal memories, a map peppered with buildings and places that ultimately give the reader something to anchor their reading to…. (A) wholly satisfying reading experience, anchoring the reader, and the experience of a collective memory, firmly to the ground."
—
Concho River Review
"Elegiac poems about violence, family, and agriculture in rural Texarkana."
—
Texas Monthly
Ohio University Press, 9780821419892, 72pp.
Publication Date: March 6, 2012
About the Author
Nick Norwood is the author of the poetry collections The Soft Blare and A Palace for the Heart and the fine press book Wrestle, which he produced in collaboration with the artist and master printer Erika Adams. His poems have appeared widely in such journals as Western Humanities Review, Southwest Review, Paris Review, Wallace Stevens Journal, and others.
or
Not Currently Available for Direct Purchase